Company Update
.
It's been another very busy quarter for us! We've recruited more brilliant people, and continue to strengthen our Technical, Operations, and Development Services teams.

Face-face events are getting easier, and there are exciting plans underway for a client meet-up in the autumn (watch this space). It also means that Alise in our Commercial team is going to able to have her wedding in August after some lockdown postponements….congratulations Alise and Michal 😊

We're very pleased to say that we've achieved the Cyber Essentials Plus accreditation (alongside ISO 27001, ISO9001 and the NHS Data Security and Protection Toolkit).

As well as continuing to collaborate with clients on bespoke features (like mentor-matching, venue management, and succession plans), we're also investing significant time and funds into enhancing our core Totara platform, so that you'll have access to exciting new features in your upgraded TXP sites later in the year (keep reading for more details).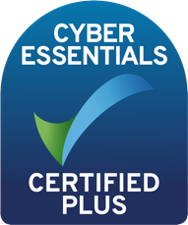 Think Learning Team Spotlight
.
This month we're pleased to introduce you to Implementation Services!
Back in March we provided an insight into our incredibly creative Development Services team, and this month we're providing a deeper dive into one of our most supportive teams at Think Learning.
Implementation Services are the team that all new clients meet once they're ready to get their platform up and running. They work closely with you to really listen and understand what it is you want and need from your LMS and are there to support and guide you through the journey of putting it all together! But that's not all they do...

The team, led by Andy, have a wealth of experience and collaborate with everyone at Think Learning to ensure our existing clients continue to get the best from their platform.
And as the team continues to grow, so do the benefits that we can offer. With larger team capacity we can start taking on more projects and training programmes with our existing customers, ensuring we continue to improve the service we provide.
Select the link below to find our more!
Learning Technologies
.
2022 saw the return of Learning Technologies and it was great to be back!

Thank you to everyone that came by our stand to say hello, we always love the opportunity to meet with each of you and Think Learning was voted to be the second most impactful brand at the show, which was a lovely compliment!

But Learn Tech is not only an opportunity to meet with our brilliant customers, but also to push ourselves and our developments, and to see how technology is changing so that we can continuously improve.
We launched some new TXP theming elements and blocks, the focus for this was an improved user journey. New features in our TXP codebase (v13+) will include things like new personal learning and manager dashboard blocks, progress bars, content and accordion blocks and recommended courses/microlearning as part of Totara Engage.

We're working hard to make it even more of a clean and engaging platform experience…you'll have access to these features when your site is upgraded to TPX (v13+). We're running the TXP upgrade programme during the rest of this year, with more information coming soon about scheduling and testing for your site upgrade.

We also had the pleasure of co-presenting 2 seminars! A big thank you to Dr Chris Walsh at the Law Society for an insightful presentation on how they integrated a powerful e-commerce system seamlessly into their LMS. And to Kevin Avis at Circle Health Group for his talk on their award-winning talent management initiatives...more details on this below.
Client Spotlight
.
You might have seen or heard us talk about how our amazing client Circle Health Group won a Totara award for Best Healthcare Project this year. Sorry, not sorry – here is more!

We have been working very closely with Kevin and his team to bring their Talent and Learning vision to life on their platform, implementing Totara Perform, Appraisal, Think 360 Feedback Tool and many more incredible features.

Circle Health Group have seen some fantastic results at the organisation, from increased compliance rate, appraisal uptake and engagement to name just a few.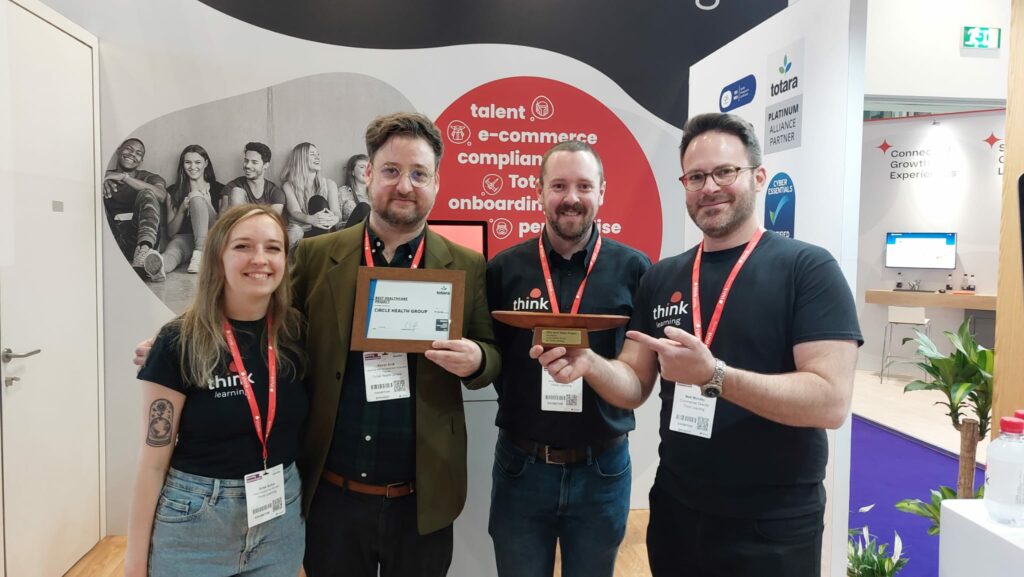 Think Feedback
.
On the subject of Talent and Learning, version 2 of our Think Feedback tool is now available!

The new version adds ad hoc feedback surveys to our existing full 360 platform, to give you a more comprehensive platform for your structured feedback processes. Think Feedback is already being used effectively within the NHS, private healthcare and central government organisations.

We think it's the most cost-effective feedback platform on the market, with lots of flexibility to deliver assessment centre processes, culture/values surveys, feedback for coaching/mentoring, and leadership 360s.

Make sure to reach out to your account manager or contact hello@think-learning.com to find out more!
Totara TXP Upgrade News
.
With the release of Totara TXP, you have the opportunity to combine all three Totara flavours (Learn, Engage and Perform) for a fluid and versatile learning experience for all users.
Our job at Think Learning is to ensure all our clients have access to the latest features as well as new developments created in-house with TXP in mind. For example, the new learner and manager dashboards we mentioned earlier in the newsletter.
Luke, within our Client Services team will be leading this project and upgrading around 30 sites over the next 6 months to a Totara TXP version...so we have a lot to do!
Each like-for-like site upgrade will take around 5 weeks to complete and below is an indication of what the schedule will look like:
• Week 1: - A TXP staging site will be created
• Week 2-4: - Client testing on the staging site will be carried out & signed off ahead of arranging the live upgrade.
• Week 5: - The live site will be upgrade is carried out and completed.
So be sure to keep an eye out for notifications on the portal soon relating to this!
New Development Spotlight
.
Think Learning's Email Notification Tool...also known as TENT

There is quite a long list of things that make us proud of our wonderful client base – your creativity, passion, determination - to name but a few.
And when the lovely team at Sussex Partnership NHS FT came to us with a problem – their Seminar attendance was low – people would forget that they were booked on sessions, so they often did not show up for their training simply because they had not checked their e-mails and/or missed some notifications, we knew this was another great opportunity to collaborate and find a solution to this problem.

Sussex Partnership wanted to find a way to communicate with their learners through various means and came up with the idea of sending text messages to their staff. We looked at ways of how to tackle this and came up with a new feature for our Email and Notification Tool, which a few clients already use.

The Think Email and Notification tool allows you to not only send seminar reminders; but you can also:

• Create personalised e-mail notifications to your users
• CC or BCC in their managers or specific mailboxes
• Send SMS reminders to users who sign up to seminars
• Notify users after they complete a specific course activity
And much more.

If you want to know more about this Premium plugin and see it in action, we will be doing a live webinar on Wednesday 6th July at 14:00.
To sign up, please email hello@think-learning.com and an invite will be sent across.

Think Learning are Recruiting
.
We are still looking for skilled, friendly people, who love engaging with customers and learning technology to join us across the business. Find our current vacancies on the 'About Us' page.