Company Update
.
The Think team met in Bristol for the first time since February 2020 (we are fully remote!). As we have had a lot of new starters over the past 12 months, a lot of us had never met in person, so it was a great opportunity to get to know each other and bond a bit after many months of MS Teams meeting (you can probably relate?).

In October more people joined our Implementation, Development Services and Client Services teams to continue to provide the high quality of service you are familiar with. They are currently learning the Think codebase and getting to know our customers and processes. Some of them will be focusing on site upgrades over the next 6 months as we plan the process to move our codebase to Totara TXP.

We are still advertising for people - Client Support Consultant, Solutions Architect and Senior Business Development Manager – so if you know someone suitable please let them know!

And a BIG thank you to the British Society for Rheumatology for completing their case study recently. If you have a story to tell about your use of Totara, the improvements and benefits working with Think and the LMS has unlocked in your organisation please let us know. We'll help you tell your board and peers, and maybe submit your story for an L&D award!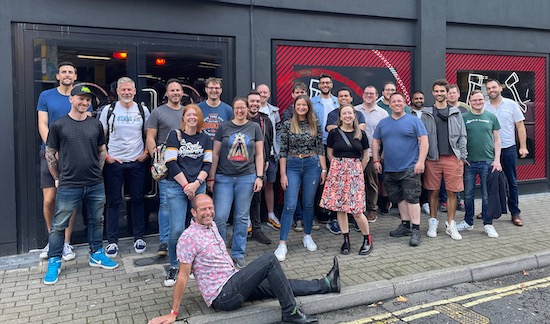 Think Learning Team Spotlight
.
We do enjoy getting to know all of you through conversations, events and support tickets, but do you know much about the various teams that form Think Learning? In this and the coming Newsletters, we will be introducing you to the various teams across our organisation.
This November, we are going to start with the team that you get to interact with most regularly – the Client Services team, led by our Client Services Manager, Rachel. As you know, the Client Services team look after you once your site has gone Live to users and have expert-level knowledge of Totara.
With the number of clients growing, so has the friendly Client Services team. You will already recognise Rachel's and Kiran's names pop up on your Support tickets to help you with your Business-as-Usual queries, but soon enough you will see more of Luke and Spencer, who have joined us recently. In fact, we are currently recruiting for another Client Support Consultant to join the team which will help us to be even better with supporting you.
You would have also seen Tim's name pop up often. He works as the 'bridge' between our Technical Services and Client Services, helping the team with more complex queries and your Development requests. Tim has kindly written up a guide to 'raising the perfect support ticket' with the Client Services team:
Totara TXP News
.
Last month a few members of Think shared their thoughts on Totara TXP and its benefits to you – our clients. We are all very excited to be exploring the new features and building a platform for you, with you.

Matt's new favourite improvement is the enhanced Reporting that will help you visualise your data in beautiful graphs and allow you to save your previous searches in a user-friendly way.

Richard is excited for you to make use of Seminar Management features – you can now mark attendees per-day on multi-day Seminars, ensuring a much better overview of your attendance/compliance.

Tom is really looking forward for you to try the new Totara Mobile App that will be accompanying Totara Learn – it will allow your users to learn on the go. Whilst the app will not be tailored to your site specifically, it will look and feel like using your own LMS.

Read the full blog post on 3 Key Totara TXP Learn features (Part 1):
Client Spotlight
.
We are delighted to have had a chance to speak to Daisy from British Society for Rheumatology about their Think Learning journey with us.

The BSR team has lead the way towards creating an engaging and educational platform for their members – UK's rheumatology specialists and MSK professionals.

Since adapting Totara as their Learning Management System, they have seen incredible improvements not only internally at BSR, but also in their member engagement – the content that Daisy and the team create has been rated very highly and is something they are really proud of.
NHS Trust Merger Workshop
.
In September we hosted a small, community-led event, addressing Organisational Merging, in the context of Learning Management Systems. Representatives from about 10 different NHS Trusts attended a small Workshop, initiated by Will Bladon, Digital Skills Lead, Learning & Development from Somerset NHS Foundation Trust.
The Workshop was addressing the fact that more and more organisations, in this particular case - NHS Trusts, are having to go through organisational merging, which is a very complex process on many levels. Every organisation is different and has its own processes – we at Think are hoping to help make it easier for you to merge organisations and plan ahead.
Our goal was to establish a community of practice where the various representatives under Think Learning's wing can share their experience and best practices of approaching this topic. We have been utilising the Community space within Zendesk portal and have a few great conversations on the go.
Come introduce yourself and follow the topic to get the latest updates!
Talent Workshop
.
As our clients grow, we like to grow with them. We've noticed that many of you have plans to develop services for your staff, managers and leaders that would fall under the broad banner of 'talent management'. We already have some tools to help here, based on our unique Workflow product, and on Totara TXP Perform.

But we know there's more to be done so we plan to focus a significant part of our software development effort in 2022 on extending these products, and potentially offering new product suites. We'd like to invite you, our clients, to help us define these products and become a part of our roadmap.

We're particularly interested to hear from you if you're responsible for, or spend a lot of time working on, any of the following areas on your organisation:

• Performance management

• 360 degree and ad hoc feedback, and e-portfolio processes

• Workforce planning

• Succession planning

• Inter-organisation planning

• Using competencies as an underpinning framework for workforce management processes



Please do get in touch with us, if you are interested in being a part of a Talent-focused discussion group.
ISO 9001 Accreditation
.
We have a Think Learning Governance and Internal Processes update (yay!)
…but seriously, we were incredibly pleased to achieve ISO9001 accreditation in October, which means that we go through regular, external audits to quality assure our products, services and customer satisfaction (expect to hear more about this soon)!
This well-recognised industry standard sits alongside our ISO27001 accreditation, which is primarily focused on information security (for which we are also assessed annually against Cyber Essentials and the NHS Data Security and Protection Toolkit).
We work hard to maintain these certifications because their underlying objective is the same as ours - to improve client experience and satisfaction!
.

Client survey coming soon..
.
It has been a while since we have asked you about your overall experience with Think Learning.

We will be sending you an end-of-the-year survey in due course and are excited to hear your thoughts!