Highlight
:

Benefits achieved with our enhanced Totara TXP platform

,

including

..

.



95% appraisal rates

3 times higher uptake for leadership courses

£104k saving from digitising competencies

87% increase in coaching support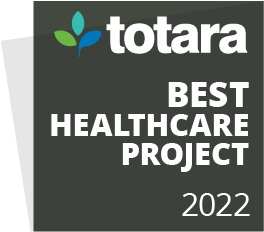 Circle Health Group transform organisational talent management with Totara TXP
.

With more than 50 hospital sites and 2 million patient visits every year, Circle Health Group is the UK's largest independent Hospital Group, and most innovative and technologically advanced hospital provider.

As the UK's most patient-focused healthcare organisation, we put patients at the core of everything we do and empower our people to excel.

We believe in our people, and that the best results will come from the best people caring together. We combine technology and innovation to improve the quality of our patient care and help our people to work more effectively.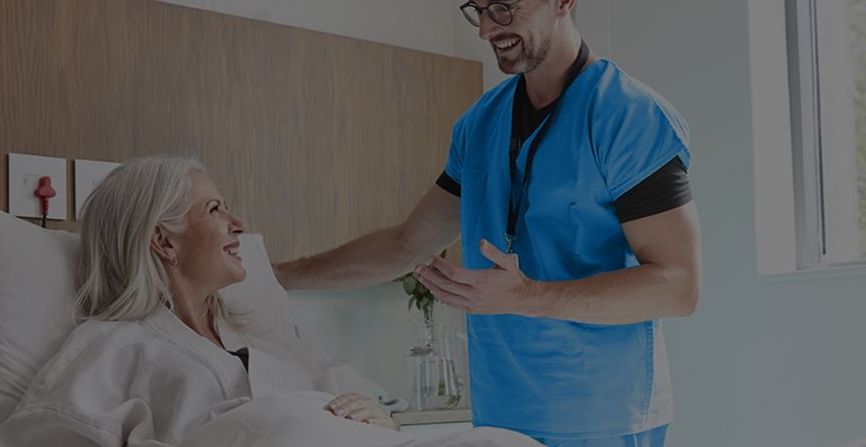 The Solution
.
It was essential to have a single platform that provided a complete talent solution. Our market research showed that several tools were available, but none that linked elements together easily.
As a long-standing, satisfied Totara customer, we already loved its holistic approach to learning, but we could also see how a person's journey of learning could be effectively supported by the additional TXP tools within the system. The Totara platform fulfilled that key criteria for us, providing a single, powerful solution to enable people to source and access tools for their development.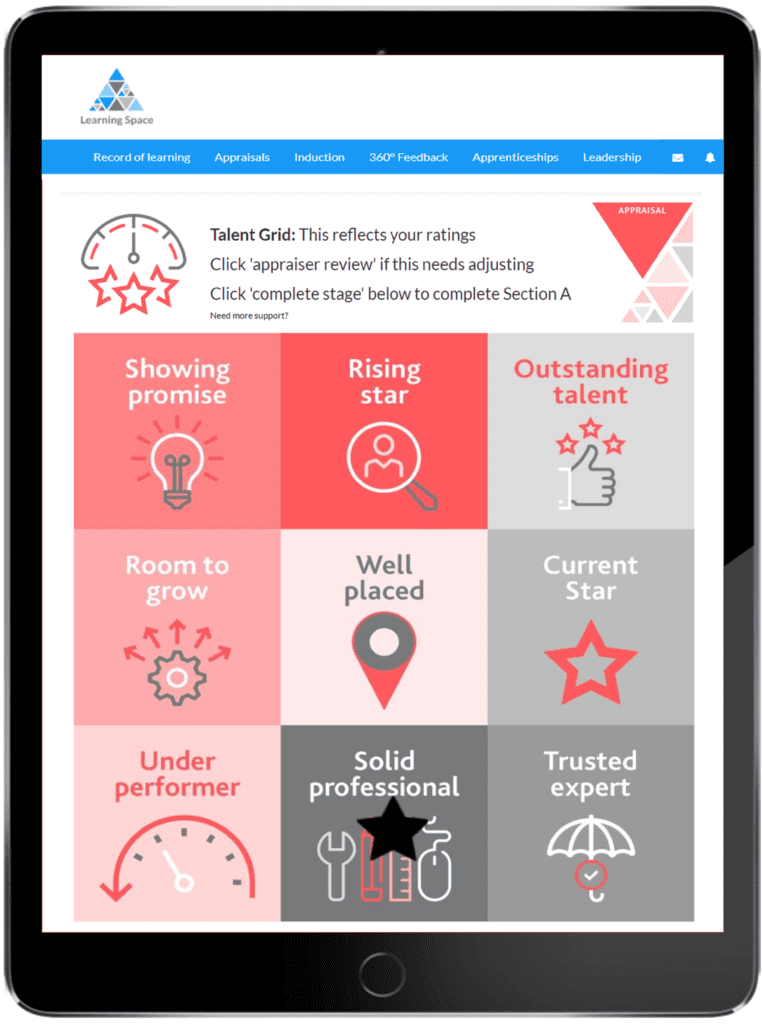 Totara TXP provided the 7 key elements that underpin our employee talent journey
.


1. Induction – we were able to enhance our already established induction by providing bespoke onboarding routes through creatively-themed programme pathways.

2. Mandatory training – the improved functionality and consultative support from our partner, Think Learning, allowed us to re-evaluate and streamline how we manage, track and report on our compliance-related training, which is key for our regulators.

3. Performance management – it was critical that we had a unified and improved process for performance management, for regulatory reporting, but equally important, to support and embed a culture of continuous development. We've achieved this by providing regular check-in conversations between managers and staff, which also had to be able to hold and reflect the voice of the employee and their experience of the process.

4. Identification of potential talent – highlighting talent was critical to feed into programmes to develop people for leadership and strategic roles in line with workforce planning.

5. Competencies – the business had hundreds of pages of documentation, in differing formats, for work-based competencies. The use of the Totara Perform competency tool was critical to bring this work together, in a single unified place which was reportable and fed into wider learning provision.

6. 360 feedback – to be able to support people with a tool that enabled feedback in line with Circle Health Group's philosophy, principles and behaviours.

7. All underpinned by elegant and intuitive user experience! We work across multiple hospital/office sites with a wide array of services and staff, and it was important that every individual could access courses and tools that were specific and meaningful to them. We supported this with personalised direct mail to every member of staff offering access to bespoke landing pages, providing support and resources according to their current or aspirational role.
The Results
.
Using the TXP functionality has transformed our key talent metrics, and our employee feedback on provision has improved significantly.
The learning management system and the support of Think Learning has enabled us to retain and build upon our reputation as a strategic partner back to the business. This enables us to maintain high levels of compliance, but at the same time innovate and remain agile, while maximising the use of TXP. Think Learning have gone beyond being a supplier, and we have built a true partnership relationship. I am proud of what we have achieved together.
Jenny McKnight
Head of Talent and People Development
Impact
.
We've seen remarkable benefits and impacts in the following areas:
Performance appraisal compliance has increased from 5% completion, to an incredible 95%. In response to user feedback, we created a more flexible, dynamic and meaningful approach, reflecting the different ways real-world performance conversations are managed. The embedding of goals and check-ins has been enthusiastically welcomed by managers. From a regulatory perspective, we have evidenced clearer and improved reporting to regulators. Induction completion rates have increased from 40% to an overall completion of 90%. This is a direct result of the bespoke nature of the induction course and its new layout; these factors have driven up the engagement rate, and more than doubled the previous completion rate.
Compliance-related training results have been much more consistent than previously (along with higher completion rates). This is an area where Think Learning specialise, and their consultative support around the use of their enhanced TXP platform has enabled our learners to complete courses with ease, and enabled us to drive a 10% increase in mandatory training completion. This is positive for the staff, impacts patient care and is critical for regulators.
Building on the performance appraisal success, Think Learning produced a bespoke, interactive report that enables managers and senior leaders to identify high-performers. As a result, participation on leadership and management courses has tripled – with a direct correlation on enrolment evidenced from outcomes of performance management conversations. The business is now in the process of training an additional 300 people across its portfolio of leadership and management courses.
Competencies: These are currently being used across the business, and most notably within our multi-million pound digital transformation programme. Digital competencies are being used to identify and allocate learning in line with staff members' digital literacy. Where this process formerly required days of manual administration, the new digital automation of competency assignment has eliminated the need for manual analysis, resulting in a saving of £104k, with a significant and immediate impact on results and data.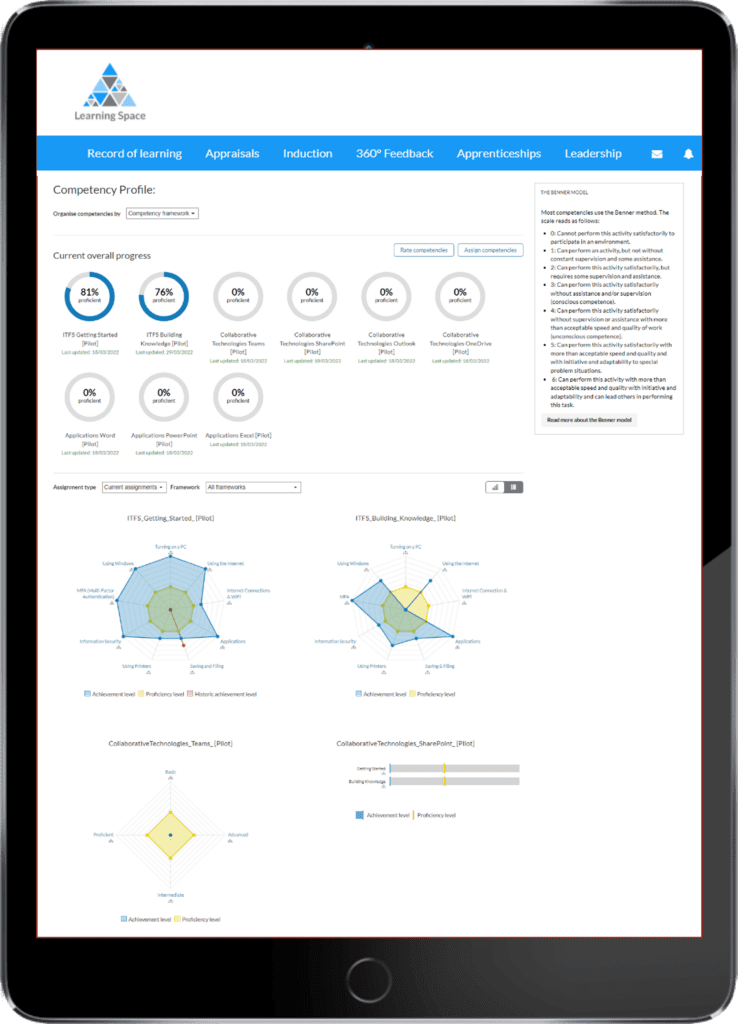 .
Impact (continued)
.
360 feedback: This has enabled our people (at all organisational levels) to reflect on their behaviours and perception across their area of influence. This technology-supported feedback culture has enabled us to better align clinical practice with our organisational values – further embedding how people reflect upon their own skills and behaviours to contribute to positive patient outcomes. 70 people accessed and completed the 360 process in the first week, with a steadily increasing uptake of 20 new employees each week. And we've been delighted to see the use of the feedback tool prompting an 87% increased take-up rate for coaching support, primarily amongst the senior manager audience at whom this was targeted.
Theming, user experience and personalisation: With the support of Think Learning, we simplified and improved our landing pages and site navigation, and incorporated a high level of personalisation. We're now able to provide online bespoke pathways for all career routes, outlining relevant formal (and work-based) learning opportunities for each stage of someone's career. To promote the new-look platform, we personally invited employees to access it via a maildrop, sent directly to home addresses. Metrics evidenced a 20% engagement rate, double what is expected for this type of promotion. Additional research and development workshops showed that the improved user interface (UI) was seen as a vast improvement; users reported satisfaction with the ease of access to high quality resources and links. Also as a result of direct personalisation, Circle Health Group has also seen a 20% increase in our key clinical apprenticeship programmes, which enables Support Workers to become registered professionals (Nurses and Allied Health Professionals). This clinical workforce development strategy (based on identifying and growing internal talent), supported by the TXP platform, will significantly contribute to achievement of our long-term healthcare workforce plan, in the context of an incredibly competitive labour market.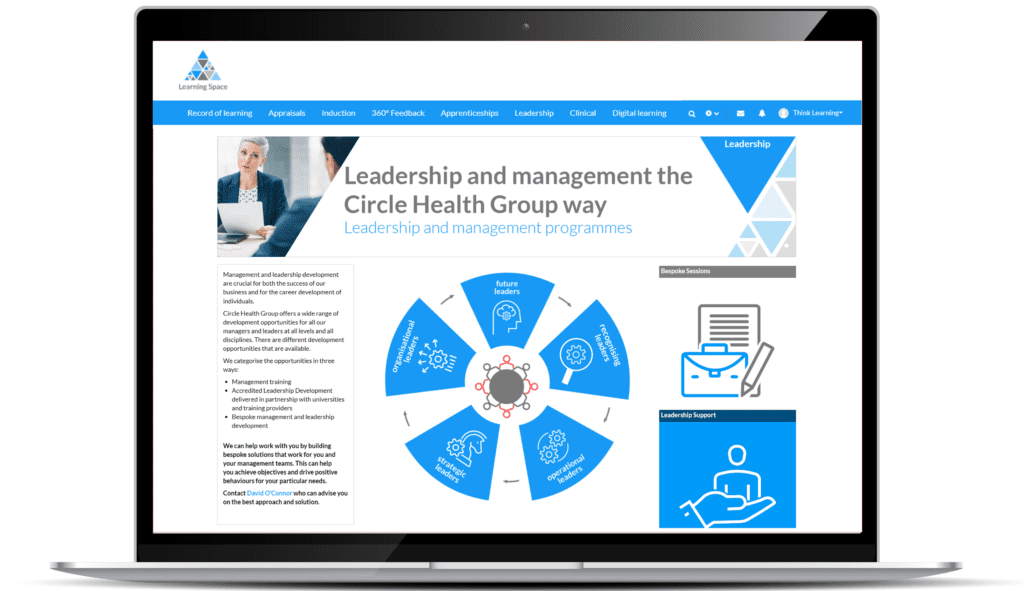 .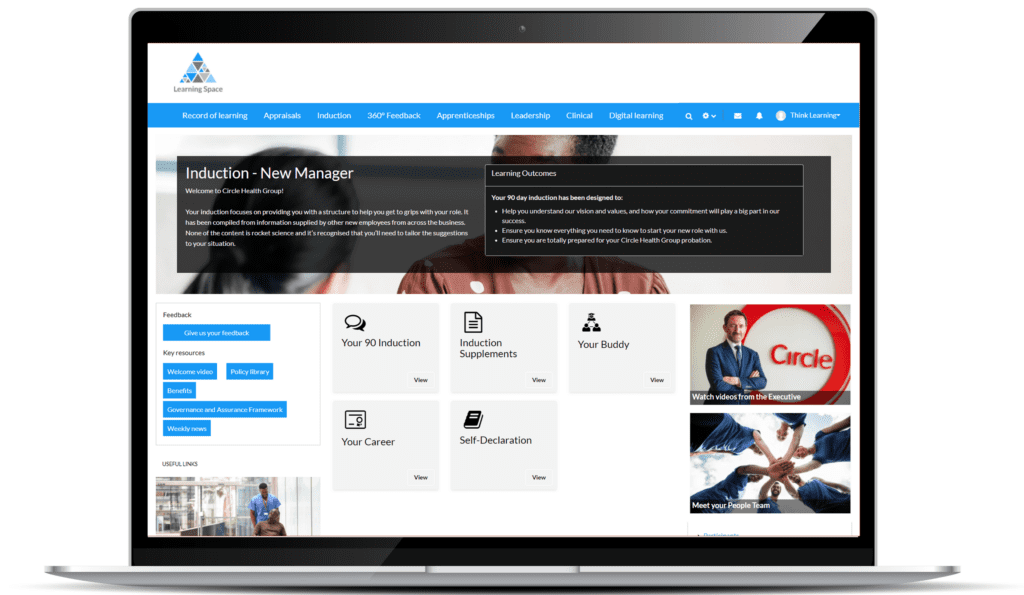 Partnership
.
Think Learning's expertise and partnership approach, along with the Totara TXP platform features have enabled us to build a holistic talent infrastructure, with a technology toolkit that really works for our people.

Finally, we've had powerful feedback from people who've joined Circle from other private and NHS providers, and a clear theme emerges around how positively our provision of talent-focused education and digital learning tools are received by employees…it has become one of Circle Health Group's USPs!
Don't just take our word for it
.
"The learning culture and opportunities with Circle Health Group make it unique among its competitors. No other independent healthcare provider has such a holistic view of learning and development. Every member of the team has access to learning opportunities whether that is clinical, administrative or in the management field.

As a hospital director, I have access to various digital tools and learning programmes to help me direct and support my hospital. The Talent system provides quick and simple access and helps me understand the features and tools that can benefit me and my teams. I couldn't imagine working without it!"
Silvie Adams, Flagship Hospital Director