About West College Scotland
West College Scotland is a further and higher education college with campuses across Paisley, Greenock and Clydebank.
They deliver courses to over 21,000 students and employ over 1,200 staff making it one of the biggest educational institutions in the country.
The Challenge
WCS relied on a one-page listicle of their mandatory training and any performance management was extremely informal and undocumented.
Given the lack of processes, managers were left to rely on out-of-date data to manage important performance conversations around goals, compliance and recertification.
Their existing resource was a SharePoint document that had been used less than 300 times over 5 years; that's just once per week for a headcount of over 1,000.
Paul Ferguson, Operational Development Manager, joined in 2021, and had a clear vision for the organisation. Paul knew that good conversations were happening organisationally as WSC was flourishing.
The challenge was creating an innovative piece of tech that could support some key talent challenges like compliance, performance management and goal tracking.
The Solution
Paul wanted to build a user-centric solution and so he sought out Totara and Think Learning as key partners.
Together, they built a learning ecosystem that harnessed what was happening organically and armed users with the digital tools and resources they needed.
Together with Think, and thanks to the flexibility of the Totara basecode, the WCS team were able to link Totara products to bespoke plugins to tailor the LMS to their needs.
Totara Learn was a core part of Evolve LMS.
But the WCS team also implemented Perform to address key challenges.
They implemented the Perform competency tool to allow staff to attach four skills profiles to their account where they and their manager could plot their progress in particular competencies. This gave automatic structure to conversations happening already.
Following on from that, Paul wanted a space where users could self-direct their development. Think created a custom tool called My Conversations to empower individuals to take ownership of their personal effectiveness by recording conversations with their manager and linking these to their competencies.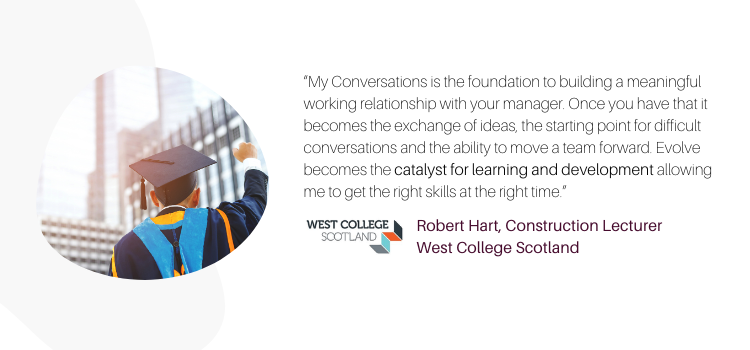 This user-led focus carried on post-launch too. Paul reviewed why users weren't engaging in learning materials and found that time constraints was one of the biggest challenges.
And so, the Think team added a time functionality to learning content so users could filter results by the length of time to completion. So, even the most time-strapped employee can find a course to suit their needs.
A final innovation was to empower managers to lead their teams effectively with real-time reporting unique to the individual. Using hierarchies and positions within Totara, the L&D team can see the overall stats around compliance and due dates for recertification.
Meanwhile, managers can see which courses their team are engaging with most. This allows them to spot trends e.g. if their team are taking burnout courses.
In addition, they have used the report builder to show managers what seminars their team are booked on to, to assist with capacity planning. All of this to ensure the LMS supports its userbase efficiently through an innovative mix of tools.
The Results
Compliance has increased from 60% to 92% as users have all the tools they need at their disposal to ensure they keep on top of learning and recertification.
And managers can easily view who is approaching recertification and send out reminders and prompts.
Since its launch, users have undertaken over 5,800 hours of learning. Meanwhile, 200+ hours have been spent on evaluations. This was previously difficult to track and monitor.
From a performance perspective, 550 goals (competencies) have now been added to the LMS, with over 200 completions of at least 1 skills profile.
This shows huge engagement in the LMS and it's easy to see why. The platform has been created from the ground up with the user in mind no matter if that's a learner, a manager, and even the L&D team.