We share our favourite mentoring resources and tools that can help you build better mentoring programmes in less time.
Mentoring is a well-used method to improve employee engagement, encourage development and increase loyalty.
While the main premise is about skill-building, there are a bunch of other benefits to mentoring too. In fact, it was found that employees with mentors are more productive and that they have a 23% higher retention rate compared to workers without a mentor.
Pretty convincing right?
But setting up a mentoring programme can result in endless spreadsheets and an awful lot of busy work for your team.
Here, we'll break down:
What mentoring is
How to set up a programme
The best mentoring resources for each stage of the process
Let's get started.
What is mentoring?
Mentoring is a business process that is traditionally used to pair senior colleagues with more junior members of the team.
Related: Complete guide to what mentoring is and its benefits
Usually, mentoring is a one-to-one relationship, but it can also be achieved in a group setting.
There are different types of mentoring, but if you're using a formal mentorship programme, then you'll want to make sure you have the right tools in place to make it easier.
💡Pro Tip

ThinkLink is a must-use tool if you're using an LMS. It helps you formalise and easily manage your mentoring relationships.

Learn more about mentor matching
How to implement a coaching and mentoring programme
There are 5 steps to starting a coaching and mentoring programme:
Identifying your mentors and mentees (or coaches)
Finding matches for your participants
Formalising the mentoring experience and setting goals
Managing the relationship
Measuring the impact
Related: How to start a mentoring programme
The trick to implementing a good programme is by having a good suite of tools and mentoring resources at your disposal.
Starting a workplace mentoring programme takes time and planning to get it right.
Creating a strong plan and process from the outset can ensure a more successful launch.
15 best mentoring tools
Looking for mentoring tools and resources to help you set up your mentoring programme?
We run you through some key processes and tools you need to look at for each stage, including:
resources for managing mentoring applications
tools for matching mentors and mentees
mentoring resources for setting goals
tools for running a successful programme
resources for reporting on impact
Let's take a look at each.
Tools for managing mentoring applications
Finding people who want to mentor or be mentored is the first step to setting up your mentoring programme. But it can take a lot of time.
Here are some tools you can try to ease the process:
1. ThinkFlow and ThinkLink
At Think Learning, we've created powerful plugins that bolt onto your LMS to help ease the mentoring process.
Users on your LMS can fill in a simple form about mentoring (which you can nudge them about, or share prominently on your LMS), which will automatically add them to the mentoring hub, ThinkLink.
Your form can ask questions like:
What experiences do you have?
What skills do you have and can help mentor with/want mentoring on?
What do you hope to achieve?
The great thing about ThinkFlow is that you can create customisable forms from scratch and configure every aspect.
Once you start getting responses, users will be automatically added to the mentoring hub of your LMS.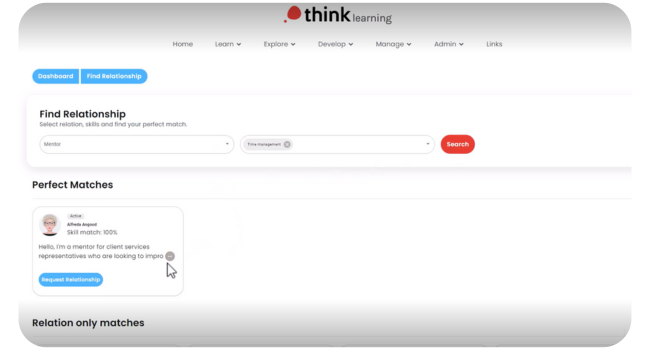 2. Registration survey
You can use tools like Google Forms or MS Forms to create registration questionnaires to circulate to your teams.
These can then be shared via Teams, Slack, or whatever tool you use to communicate with your people.
You'll then need to manually enter people into your mentoring hub, or compile the data somewhere for later use.
Tools for matching mentors and mentees
Matching your mentors and mentees can be the most challenging part of a workplace mentoring programme.
It takes a lot of time to go through the requirements each participant has listed and match them to the best person.
Here are a few tools and resources that could help that process:
3. Give power to the user with ThinkLink mentor matching
At Think, we believe that the mentee should oversee who they're paired with.
As such, we built our tool to be searchable by skill. Whether that's communication, leadership, or a more specific skill based on their job role, ThinkLink allows users to look up mentors based on what skills they've listed in their profile.
From that point, the mentee can easily identify who might be a good match for them and request a relationship.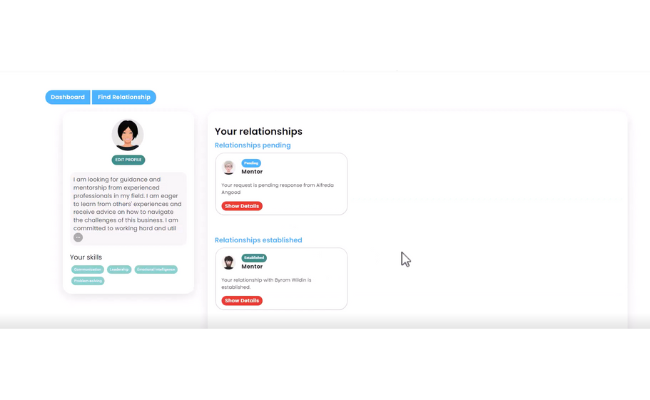 This gives your people the power to own their mentoring relationship and allows it to feel a little more organic.
4. Spreadsheets
Using a spreadsheet is a good way to merge all of your mentorship applications and start to put people together.
This is a good option if you want to keep costs low. However, once you get starting volume in your programme, you'll start to struggle to manage matching participants.
What's likely is that it'll become a highly time-consuming task and you'll struggle to effectively match people as well as you would on a lower scale.
5. 1-on-1 interviews
Some mentoring programmes take the list of interested employees and then conduct one-on-one interviews to learn more.
This is obviously highly time-consuming, but it can lead to much more data and detail on what employees are looking to gain from their mentoring.
Again, you'd likely wind up using a spreadsheet or other administrative tool to manage this data.
Resources for setting mentoring goals
Setting goals for your mentees before the programme begins is key to both ensuring they get what they're looking for out of it and measuring the impact.
There are a few resources and tactics you can employ here:
6. Lead and lag goal setting
Lead and lag measures are a good way of measuring the immeasurable.
For example, if a mentee wants to 'improve their confidence', how do you define this within a mentoring programme?
Instead, you would set your lag measure as improving confidence. And then you would set several lead measures that are more quantifiable and actionable that should result in increased confidence.
For example:
Research an idea and then present it to the team
Upskill in a particular area
Shadow a colleague in a particular team
All of these are actionable goals that should lead to increased confidence.
Setting your goals in this way allows you to pinpoint exactly what worked, and what didn't as opposed to getting to the end of the programme and not being sure why a mentee's confidence didn't improve.
7. SWOT analysis
A mentee and mentor can do a SWOT analysis to look at a mentee's:
Strengths
Weaknesses
Opportunities
Threats
Looking specifically at strengths and weaknesses should highlight where there is room for improvement. These would then become their goals.
Any opportunities and threats would then highlight what might help or hinder them from achieving those goals.
8. SMART goal setting
Another good way to set goals is by using the SMART technique.
That's making sure the goals are:
Specific
Measurable
Attainable
Realistic
Time-sensitive
Mentees should write down their goals and ensure it fits this approach. This makes goals easier to track and measure and also means the mentee can pivot if a goal becomes unattainable or no longer relevant.
Resources for a successful mentorship program
Forcing two people together doesn't always lead to development. As such, you need to make sure you guide mentors and mentees through the process.
You could create:
9. Guides
To help mentors and mentees understand what's expected of them during the programme. These guides will be solid design pieces that can walk users through each step of mentoring.
10. Meeting agendas
No matter how frequently your mentors and mentees are meeting, they will likely need some support in getting the most out of their catchups.

This will help them understand what point they are at in the process and keep them on track.
11. Regular catchups with L&D
Not only should mentors and mentees be meeting each other, but your team should be catching up with them too.
12. Meeting logs
ThinkLink also provides a journaling tool for mentors and mentees to make notes during and after their meetings. This is helpful to allow them to keep up to date with progress and reflect.
13. Mentor training
You need to ensure mentors are prepared for their new roles. Consider creating easy-to-access learning materials within your LMS.
Tools for reporting on mentoring impact
Tracking the impact of your mentoring programme is vital.
It's important to know what mentors and mentees felt about their experience, as it teaches you what did and didn't work. Plus, it gives you actions for the next time you run a programme.
Some tools and methods for reporting on your impact include:
14. Feedback tools
You can incorporate a feedback tool like ThinkLoop into your LMS and your mentoring hub.
This allows you to send out calls for feedback automatically, where it's collated and presented in easy-to-read formats.
You can use tools like this one for any type of feedback; ad-hoc, 360, post-event etc. But it works well here as you can get anonymous feedback, or you can share feedback.
Plus, let's say your mentee wants to work on their leadership skills in the mentorship.
You could then ask their colleagues for feedback on how their leadership has improved since finishing the mentoring programme.
This gives you high-value qualitative feedback to prove your impact.
15. Survey tools
If you don't want to integrate a feedback tool, you can just a standard survey tool like Survey Monkey, TypeForm or even just MS Forms.
Here, you can ask the relevant people the relevant questions and collect responses.
You could then host this feedback as a report in a pdf or spreadsheet format.
Implement the best mentoring resource, ThinkLink
ThinkLink is the perfect tool to use when setting up a mentoring programme.
It takes all of the administrative work out of setting up and managing your mentorship participants, meaning you can spend more time on the important stuff.
Learn more about ThinkLink, and other range of tools and plugins, by booking a demo with the team.
They'll show you the platform in action and give you a sneak peek of the rest of the features you can expect to see in our LMS.