When it comes to peer-to-peer matching your people, there are plenty of routes to take.
From mentoring to coaching, buddying up to back to work schemes, there's a whole host of ways to utilise your internal knowledge and develop other members of staff.
But one stumbling block that organisations have is the administration of these programmes.
We created the perfect tool, ThinkLink, which will help you seamlessly configure and deliver the type of user matching you need.
Keep reading to learn:
What ThinkLink is
Why peer-to-peer user matching is so important
How ThinkLink works
Let's get started.
💡 Pro Tip

Read our downloadable guide to mentoring to see the benefits, plus how it works with Think Learning.

Complete guide to mentoring
What is ThinkLink?
ThinkLink started as a concept to support our clients deliver a mentoring programme in their organisation.
90% of workers who have a mentor report being happy in their job.
So while we know there are many benefits to mentoring, the difficulty comes with organising mentoring programmes.
Related: Key mentoring statistics
In many cases, organisations resort to spreadsheets to manage their mentoring programmes. What this leads to is messy data and missed opportunities. It also puts all of the onus on matching users to your L&D or HR team.
At Think, we believe your people should be given the power to find the right match for them.
Related: What exactly is mentoring?
And it's not just mentoring.
With ThinkLink, you can create relationships for:
Mentoring
Coaching
Buddying
Phased return
Onboarding and more
Why peer-to-peer user matching is so important
Peer-to-peer user matching is important because it allows individuals to connect and interact with like-minded individuals who share similar interests, needs, or goals.
Related: 5 steps to creating a mentoring programme
It eliminates the reliance on intermediaries or centralised systems, putting the power of connecting and matching users directly in their hands.
This form of matching promotes a sense of community, trust, and collaboration as users can seek out others who can offer relevant expertise, assistance, or resources.
Peer-to-peer user matching also fosters creativity and innovation by facilitating the exchange of ideas and knowledge.
Overall, it empowers individuals to find the right connections, build meaningful relationships, and leverage the collective intelligence of the community.
How ThinkLink works
When you integrate ThinkLink into your LMS, you will be given the option to create a connection type. You can edit all aspects of this connection type to suit your specific needs.
You're able create:
A mentoring programme
A coaching or buddying system
An onboarding training process
Return to work programmes
Configuring the parameters of your programme is easy. You can choose which audiences to target, and what skills users are able to include in their profile.
🚀 Pro Tip

You can also use ThinkFlow, which is a tool we created to make creating digital processes a breeze, to allow users to fill a suitability form for a mentoring programme and then be automatically added to your programme.

Learn more about ThinkFlow
Once you've set up your programme, your users can then browse their peers and request the right relationship for them.
They will:
Search for a connection
Request a connection
Update their log
View their connections
Let's look at each of these in more detail.
Search for a connection
Set a pre-defined list of skills that your mentees (or other) can add to their profile.
Then, when it comes to finding the right connection, users can search based on a set skill.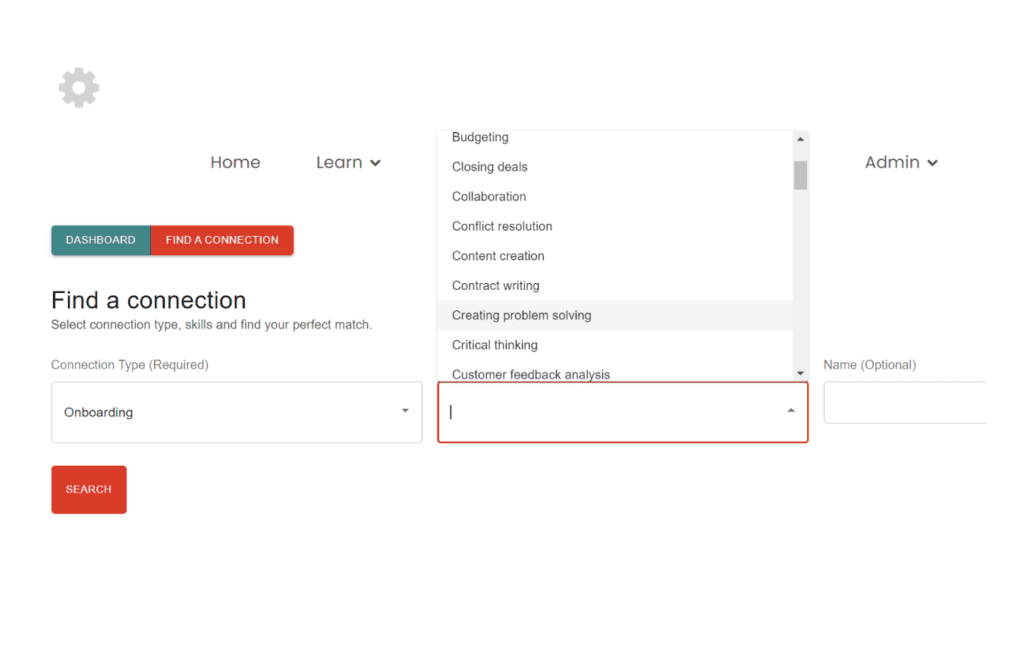 Request a connection
When your user has found a good fit for them, they can then request the connection.
As easy as adding a connection on social media, the potential mentor, buddy or coach will be sent a notification and the user will be added to their 'pending' connections list.
Update their log
Once your connection is set up, users can access the log to add in any updates.
This helps them, and their managers, keep track of progress and evidence impact.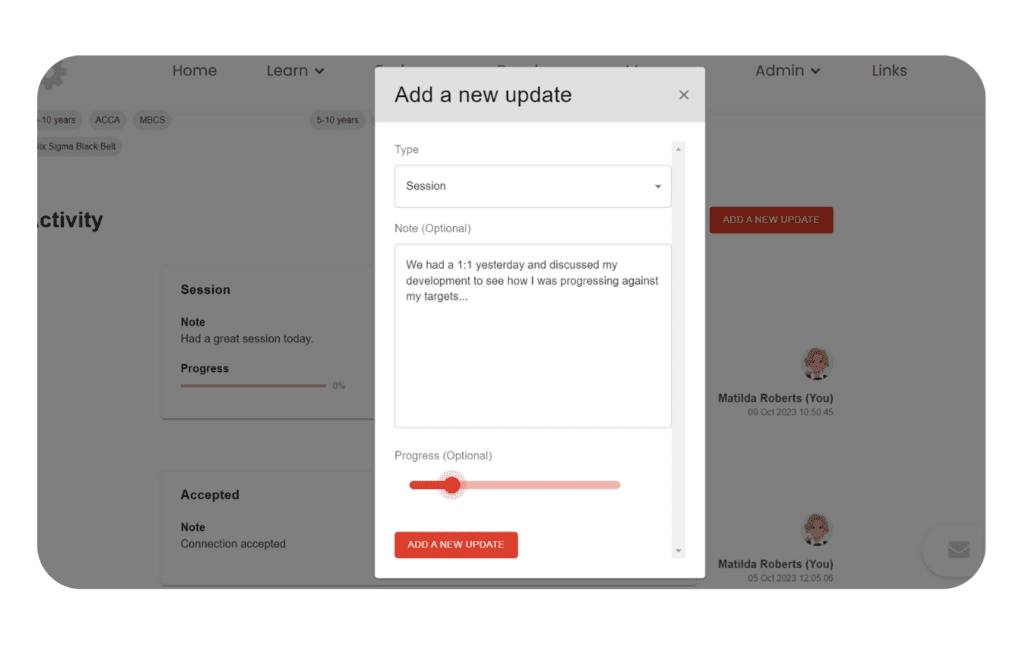 View their connections
Users can navigate to the ThinkLink dashboard to see all of their pending and established connections in one simple view.
This makes it easy to manage progress and updates.
Get started with your peer-to-peer matching programme
Integrating ThinkLink into your LMS can help your users find the right connections that could elevate their career, develop their skills or just broaden their network.
By offering a range of different peer-to-peer matching opportunities, you'll be able to show your employees that you're actively investing in them and their development.
Plus, with our tool, you can take the pressure off of your L&D or HR teams and allow them an easy platform to manage and record success.
Book a demo to see ThinkLink in action, and see how this tool can work together with the rest of your LMS to deliver a robust matching solution.