Effective performance management can positively impact many factors of your business. Learn what it is and why it's so important.
98% of organisations believe performance management is important. And it's no surprise.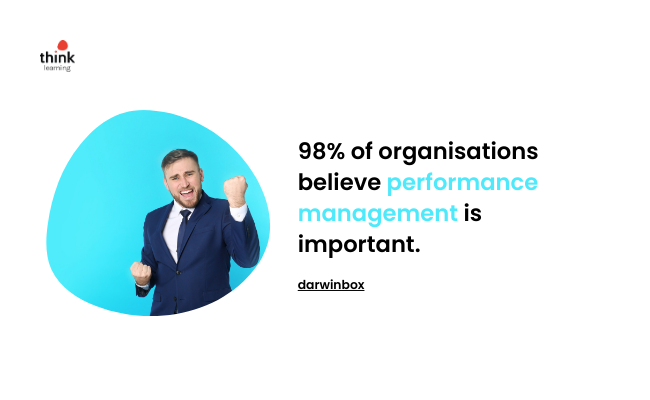 Effective performance management can help you:
Prioritise your people and encourage engagement and retention
Improve processes and outputs
Develop talent
Of course, that's just a snapshot.
Creating and developing how you manage the performance of your employees and of your business can quickly get complicated.
But don't worry. We're here to help. In this blog, we'll go through:
What performance management is
Why performance management is important
What the performance management cycle is
Best practices for good performance management
Why performance management software could be helpful
So, get yourself a hot drink because this is going to be a long one!
What is performance management?
Performance management is a HR process that ensures employee outputs meet expectation whether that's personal goals or organisational goals.
The goal is to create an environment where employees can perform to the best of their ability and are supported in their work.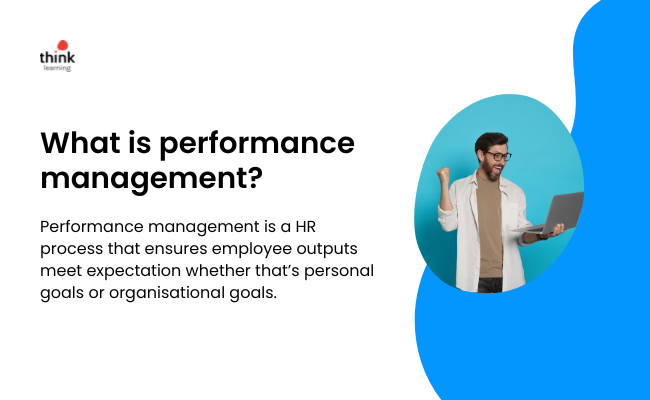 Performance management is usually focussed on an individual employee, but it can also apply to a whole company, a department or perhaps even a new process.
🚀 Pro Tip

Creating a strong performance management process requires the right tools. Learn more about Totara Perform, which we use as a base to build a dynamic and user-centric performance and talent solution.

How Think can support performance management
Why is performance management important?
Performance management gives your company the base to build a highly supportive, development-focussed culture.
Historically, performance management may have been looked upon quite negatively. Nowadays, companies are looking at performance management as an opportunity to keep in touch with employees and check on their wellbeing.
The importance of performance management
Managing your teams and employees via regular check-ins can help you in a number of ways.
You can:
Establish better relationships
The first benefit to good performance management is establishing deeper connections between manager and employee.
Historically, appraisals, 1:1s and PDPs are seen as quite formal events with conversations being centred around job performance and goal setting.
Now more than ever, we're seeing that start to shift.
Managers are using these conversations to better know their employees, check in on their well-being and support them with their long-term goals.
Better relationships between colleagues means more open feedback, more engaged employees and a stronger affinity to the company.
Open the conversation
Of course, we know that you should be feeding back to employees regularly, and not saving feedback (particularly constructive or negative) for annual or quarterly reviews.
However, performance management conversations can help you better communicate with your teams as you're giving them a clear platform to feedback and an opportunity to steer their career.
💡 Pro Tip

We would recommend integrating a 360-feedback tool like our ThinkLoop tool, into your LMS. You can seamlessly collect and collate feedback across teams and share it where it's needed.
Make plans for development
Good performance management should see your employees grow in their time at your company.
And managers should be using these conversations to spot talent and develop it. Whether that's talent in one skill, or talent for potential future leadership.
But this isn't just a one-way conversation. Good performance management allows the employee to prioritise their learning and development too.
Engage and retain your talent
We know that highly engaged talent sticks around for longer. In fact, 94% of employees would stay at a company longer if it invested in their career development.
Performance management, when done correctly, is a type of employee investment, so, it's clear what the correlation is.
What's the goal of performance management?
Performance management offers a simple system to managers and employees when it comes to conversations around progression, development and job performance.
It's clear and consistent and gives clear guidelines that impact productivity and success.
There are five goals for good performance management:
1. Develop clear job expectations and set goals
2. Increase employee engagement
3. Develop and support managers
4. Boost job performance
5. Highlight progression and rewards to incentivise productivity
Appreciating that performance management isn't just for the employee is key. The system of performance management highlights the pathway to success and gives the employee clear measurable goals to aim for.
Meanwhile it allows management to keep track of employee output and correlate performance to business outputs.
The benefits of performance management
There are several clear benefits to effective performance management, that can touch all the stages of the employee lifecycle.
With these benefits, we're seeing more companies take up performance management and more specifically, good performance management.
⚡️Pro Tip

Remember, performance management is best done with a tool to centralise all your people data. See how we can collate all of your people data and give your managers and employees the tools they need to effectively progress in their roles.

Learn more about performance management
8 benefits of performance management are:
1. Easier hiring
Having defined performance objectives and goals makes hiring easier as new hires know what's expected from them and your HR team can easily identify who is a good fit.
2. Better training
These well-defined roles make training easier too, as you can be more targeted in what you're teaching and to who.
🚀 Pro Tip

We can help you create curated lists for your learners based on their role, their skills and their interests.

Book a demo to learn more
3. Creating solid, achievable goals
Flexible goal setting allows your people and organisation to react quickly and monitor progress. This enables your company to be nimble and agile when it comes to prioritisation.
4. Clear expectations for employees
When you set clear goals from the beginning, you're better enabling success for your employees.
While you want to be clear on goals, you can still be flexible to ensure you're sticking with what works best for them, their timelines and their priorities.
5. Longer retention
As we said before, employees who feel that they're being invested in, generally stick around for longer.
And it's no surprise. Investing in your employees is giving them new skills as well as a new lease of life in their role.
6. Higher employee engagement
Good feedback and open communication achieved through performance management can result in increased engagement from employees. When employees are taking a more active role in their own development, they're more likely to get deeper involved in learning and their job tasks.
7. Develop top talent
With better engagement, good goals and stronger communication, you're more able to find top talent and develop them. This gives you better leaders that you are promoting internally.
8. Better work, for longer
Of course, all of the above has an impact on job productivity across the board. Employees are engaged, learning new skills and heavily invested in their roles. As such, productivity goes up.
Given employees are being properly rewarded for their hard work, they're incentivised to work harder for longer, too.
What is the performance management cycle?
The performance management cycle is the name given to the annual process of employee evaluation.
All employees tend to go through a similar cycle where they set goals, monitor their progress and then review their full impact at the end of the year.
The aim of a performance management cycle is to give structure to goal setting and job productivity. By giving your employees set goals to achieve by the year end, they know what they're aiming for and what they need to do to get there.
Stages of a performance management cycle
The performance management cycle generally consists of five distinct stages. Each of these stages is equally important as it better sets up the employee to achieve their intended goals.
We break down the performance management cycle into:
Plan
Monitor
Develop
Rate
Review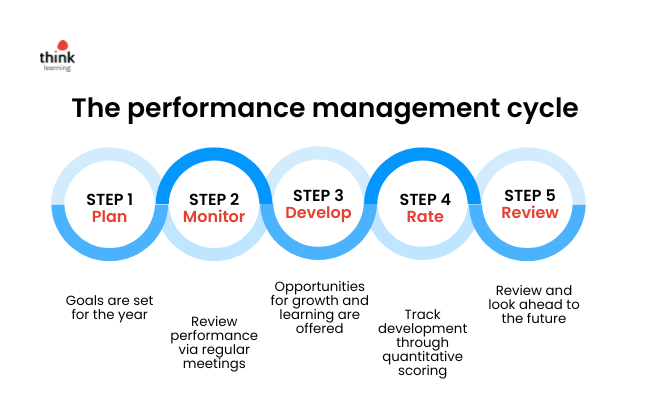 Let's look at each one in more detail:
1. Plan
Starting a new year means setting new goals.
Of course, the responsibilities expected of an employee should be clearly outlined in their job description.
However, it's essential to set and communicate key goals as it helps them keep on track in doing their job well and develop their skills.
2. Monitor
You should be frequently checking in with your employees about their performance.
32% of workers need to wait more than three months for feedback. You should be immediately feeding back whether that's positive or negative to ensure your employees feel well communicated with.
💡 Pro Tip

The best way to manage feedback is via our ThinkLoop tool. You can easily collect and collate feedback and present it to the relevant people in a way that is easily digestible and actionable.

Learn more about ThinkLoop
Plus remember, goals should be flexible. Things change and a year is a long time. Your goals should flow with your current objectives and the needs of your employee.
By putting in regular chats to monitor progress and potential barriers, you can ensure that goals are realistic and useful.
3. Develop
As you have ongoing conversations with your employees, you will likely start to spot opportunities for development.
These are key to nurturing your hires into high flyers.
Whether it's training, mentoring, courses or other, you can help fill the skills gap and show true investment in your team.
⚡️Pro Tip

We also offer a great mentor matching tool called ThinkLink. It allows mentees to find mentors based on shared skills, goals or even hobbies, and lets you more effectively report on its impact.

Learn more about ThinkLink
4. Rate
You should be rating where your team is up to against their goals by scoring them.
Some teams use competencies or skills as a base for tracking ratings and scores. Doing this allows you to see progress in a quantitative way, which is great for reporting.
5. Review and reward
At the end of the year, you should have a final review of the progress made through the year. At this point, you would also start again and look at goal setting for the next year.
But in the meantime, be sure to be appreciative of the work put in over the last year.
And remember, this shouldn't be the only time you actively review their work and progress.
After all, 80% of employees prefer immediate feedback rather than waiting for annual performance management reviews.
If your employee has performed well, what are you rewarding them with?
Incentivising hard work should be commonplace. Whether that's a bonus, public recognition, employee rewards, it doesn't matter, but your employee needs to know that their work is valued. And more importantly, that they are valued.
Performance management is never 'done'. It's an ongoing process and this should be communicated clearly to employees when they join your company.
How to measure employee performance
So now you know why you need performance management and its benefits. But how exactly are you measuring employee performance?
Of course, this will vary business to business and even employee to employee, but it's good to look at this framework and use it as a base for creating your own measurements.
4 ways to measure employee performance:
Set measurable goals
Measure performance against competencies
Collect feedback
Look at efficiency and work quality
Let's break these down into a bit more detail.
Set measurable goals
First up is the obvious one. Creating measurable goals for your employees is a great way to keep them motivated as you're giving them an ambitious, but achievable target.
Employee goals should span from team or organisational goals, so that they feel they're having an impact on the overall business objectives.
✏️ Note

Remember, you want to continuously review goals and objectives to ensure that they remain realistic. There's nothing less motivating than unreasonable targets!
Measure performance against competencies
Competencies are a skill or behaviour that an employee needs to demonstrate in order to effectively carry out their job.
These are commonly used as they tie skills back to specific job functions.
They're also a great way to prep employees for leadership as you can pinpoint soft skills that they might need to develop.
Once you've settled on your competencies, you can then assess employees during their time in the organisation based on what degree they display these key skills.
Performance solutions like ours will attach competencies to the relevant person and give you both space to rate their level. For example, your employee might rate themselves as a 6 in communication in month 3, while you only rate them a 5. It allows you to open the conversation to their progress and identify opportunities to develop.
It's an easy way to link training and learning options to employees too.
🚀 Pro Tip

Learn more about competencies and how West College Scotland use them to monitor their talent progression and goal setting in a flexible and fair way.

Read more about West College Scotland
Collect feedback
How your employees work can sometimes best be qualified by their colleagues. But obtaining 360 feedback isn't always easy.
Historically, this type of assessment can be time consuming and require some commitment from a lot of people.
But, when you're using a simple feedback tool like ThinkLoop, you can rest assured knowing it's quick and easy to collect and collate feedback.
Feedback is great as it can give more detailed notes to your employees on their performance and where their strengths and weaknesses are.
Look at efficiency and work quality
A more traditional way to measure performance is to look at work levels, and work quality.
It's worth noting, this isn't something that should be measured as an indicator of success, more as something to be noted.
For example, you might find an employee has great work efficiency in quarter 1, but you see it drop in quarter 2.
This could be an indication of a need for greater support, for a wellbeing check in, support for burn out or a multitude of other reasons.
Best practices for good performance management
When it comes to implementing good performance management, there are some things to consider.
You want to be engaging in your approach and put your employees at the centre of it.
So, 7 best practices for good performance management are:
Re-evaluate goals regularly
Have regular conversations
Feedback when it's needed
Automate your process
Give your employees the power
Recognise good work
Evaluate performance fairly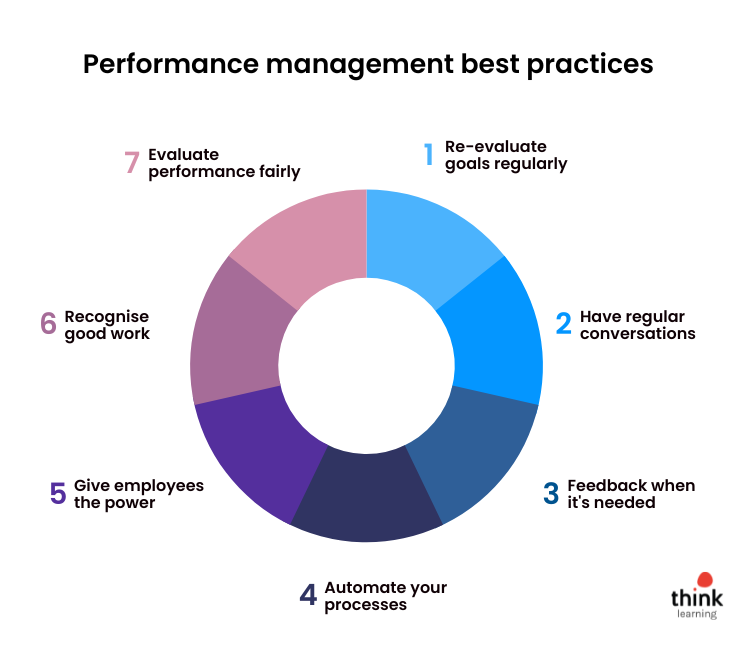 Re-evaluate goals regularly
If COVID taught us anything, it taught us that things can change, quickly.
As such, you need to be nimble in your organisation. A part of that agility comes down to goals.
You need to be able to chase the goals that matter most. If priorities change, it's better to alter your plan as opposed to sticking at something that's not working.
This should apply to your employee goals too. Regularly assess if they're a good fit, and if not, change them.
Have regular conversations
Schedule regular performance conversations into your calendar. Information should never come as a surprise to a manager, so it's vital that they're meeting often enough to be able to keep on top of current job expectations and workload.
Plus, when you regularly feedback to employees, they will start to expect constructive criticism and praise at these meetings and will feel more motivated.
Feedback when it's needed
Although you should be regularly chatting to your team about performance, any important feedback should happen instantly.
Don't wait to feedback, particularly if it's something that needs improvement.
Employees will feel more respected being told straight away. And, waiting for a performance conversation could make them feel like it's being used against them when it comes to getting any potential bonus or progression.
Automate your process
Performance conversations can take up a lot of time. So for managers with a lot of employees to speak to, it can quite quickly become an admin headache.
Plus, there's all of the processes and paperwork that needs to be done.
One easy workaround is investing in a performance management tool to do the hard work for you.
A learning and talent solution like Think Learning allows you to centralise all of your people data and automate key processes so that you can concentrate on more important stuff.
Give your employees the power
One feature of our LMS is that employees have just as much control over their PDPs, appraisals and 1:1s as their manager, if you want them to.
Our customer, West College Scotland, empowers their staff to manage their own performance conversations by giving them access to key aspects of the Perform tools.
For example, they can schedule their own meetings and conversations. They can use the tool to add in notes and meeting minutes so that everything is recorded too.
This gives them more ownership of their development and allows employees to take the lead.
Recognise good work
This goes without saying, but always reward or acknowledge good work. Employee recognition has strong links to employee engagement and so the more you're shouting about good work, the more you'll see it.
Evaluate performance fairly
Leaders should always prioritise honest feedback with a clear 'why' behind each evaluation.
Giving more detail allows employees to fully understand where they're at and where they need to improve. It also gives a strong foundation for them to work off from.
Why performance management software could be helpful?
Information is an important resource.
And information about your employees can really help you learn more about their performance and where potential obstacles are.
Performance management software can help:
With normal business processes like reviews, succession planning etc
Plan and schedule 1:1s, appraisals
Centralise people data and keep notes on previous conversations together
Provide a visual of how employees are improving against mapped competencies
Determine which employees are struggling and which are thriving so you can offer appropriate support
Think Learning is a learning and talent platform that supports customers deliver excellent learning experiences and better manage performance.
We use Totara's basecode to create a dynamic platform that is feature-rich for L&D professionals. Their Perform tool allows us to create a dashboard for managers to better monitor goals and competencies and identify top talent.
Sound good?
Book a demo to see how Think Learning can help you better engage your employees in their performance conversations and support new hires to become highflyers.