Working in L&D for the best part of two decades I've often heard references made to the 70:20:10 rule; 70% of learning happens on the job, 20% from feedback, and only 10% from formal training. The same numbers are often applied as the norm for the OSF ratio, On-the-job (70), Social (20), and Formal learning (10).
I was reminded of 70:20:10 when pondering how Engage fits in the world of LMS's and learning and development. Engage is one of Totara's three pillars of their TXP platform – Learn, Perform, Engage. To paraphrase Totara, the Engage platform is a "learning experience platform that allows for workforce collaboration, sharing of know-how, training and resources".
I've experienced a number of organisations whose training is geared solely around compliance and statutory and mandatory training – in other words, the formal training that is thought to contribute only 10% to learning. The question in my mind was what benefit could Engage have for those organisations? Why would they be interested if they are content with delivering tick-box formal learning, and demonstrating compliance through eLearning quiz assessments?
The answer is they probably wouldn't at first glance. But what if those same organisations could see that adopting a model of learning and development that accelerated learning and improved competency would, in turn, bolster safety, improve customer retention, speed up staff development, productivity and so on?
The lightbulb moment for me happened when listening along to a recent webinar from Lars at Totara. It was about action learning, but he shared a graphic that caught my eye because I instantly realised the value of Engage in the context of the bigger picture of learning and development.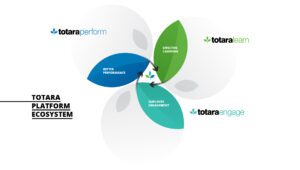 Engage fits in the space between learners acquiring new knowledge in formal learning, and transferring that into the workplace. When formal training finishes (remember our 10%) the acquisition of new skills and time-to-competency can be accelerated with coaching, feedback, social and peer to peer support (the 20% from 70:20:10) – and as a tool, it's what the Engage platform is built to support.
And the 70% of learning from our 70:20:10? Engage can surely add value to on the job learning too; think reflective practice, coaching and feedback on current performance. Think continuous learning.
A ready-made platform inside the LMS, giving trainers and subject experts a straight connection with learners sounds like it could help us in L&D to more easily move beyond tick-box training. To me, it's that word collaboration, opening up a channel towards continuous learning. And then I start thinking about how it could help achieve more effective evaluation, feeding better learning design
Back to 70:20:10, I'm pretty convinced Engage is a key for us in L&D to reach into the 20% and the golden 70% and help us achieve better results with our budgets and resources. It won't solve it alone, but as part of a strategy for improving the effectiveness of Learning and Development, it's a powerful proposition.
To find out more about how Engage, and Totara TXP, learning experience platforms can help you transform your organisation get in touch here
Kevin Foxley, Learning Technology Consultant
Think Learning