Got a new hire starting soon? We run you through everything you need to know about onboarding to make it a success.
So you've made a new hire – congrats!
Your team will have spent a long time deliberating who was best for the job, and no doubt will want them to get to a flying start.
But starting a new role isn't easy.
Most people will tell you it can take a few months, if not longer, to feel comfortable in a job.
So how can you support this new starter to go from new hire to highflyer?
In this blog, we'll go through:
What is onboarding?
Onboarding versus offboarding
How long does onboarding take?
Why is onboarding important?
What is the onboarding process?
Onboarding best practices
Key onboarding statistics
Let's get started.
💡 Pro Tip

We're experts when it comes to onboarding. Our tools can help teams streamline induction processes, onboarding checklists and more.

Learn more about onboarding with Think
What is onboarding?
Employee onboarding is the process companies, or HR teams, go through to welcome a new hire. It's how people deal with integrating new team members so that they feel comfortable and confident in their new role.
There are a wide range of activities involved in onboarding, and choosing the right process for your company is essential to ensure that candidates feel well-equipped to do their job.
Onboarding versus offboarding
Onboarding begins when a candidate agrees a position with your company. It's the subsequent steps you take to get that employee competent in their role.
Offboarding is the reverse and is the process of an employee leaving a role. This is usually focused on knowledge sharing from that employee across teams and colleagues.
Offboarding is equally important to get right in your company, as it stops you losing valuable skills and knowledge as people leave.
Related: How to increase learning transfer
Onboarding versus orientation
Onboarding describes the process that new employees go through when they first start a new role.
This process usually spans a longer period of time as it's about getting that new hire comfortable in their role.
Orientation on the other hand, simply refers to that initial welcome that a company provides.
This usually occurs over the course of a single day and is more around meeting new people, seeing the office space and more.
How long does onboarding take?
Onboarding of course depends on the role the person is taking and their seniority.
We asked experts and found that on average onboarding takes around 3 months from end to end.
But most agreed that most of the onboarding tasks in their checklist were usually completed within the first two weeks.
The extra time was just the time needed before an employee could work completely independently.
Key onboarding statistics
Understanding onboarding and its impact can be best described through statistics.
Here are a few highlight onboarding stats to be aware of.
We know the link between onboarding and retention.
But did you know that 69% of employees are more likely to stay with a company for three years if they experienced great onboarding.
And the cost of replacing talent make retention even more appealing. In fact, the organisation cost of employee turnover are estimated to range between 100% and 300% of the replaced employee's salary.
And yet, just 65% of companies have a formal onboarding program.
Related: Read even more jaw-dropping onboarding statistics
Why is onboarding important?
When you think about starting a new job, it can be a scary prospect. While you're excited to start something new, you're also likely to feel quite nervous at starting fresh.
Coming in somewhere new, where you don't know the company, the people, or even really the job expectations can be quite stressful.
So what exactly are the benefits to onboarding apart from making new hires feel at ease?
We usually have it down to:
Higher employee retention
Reduced admin time
Create stronger working relationships
🚀 Pro Tip

Read our complete guide to onboarding in this handy download-free guide. It breaks down all of the important aspects of onboarding that you need to know about.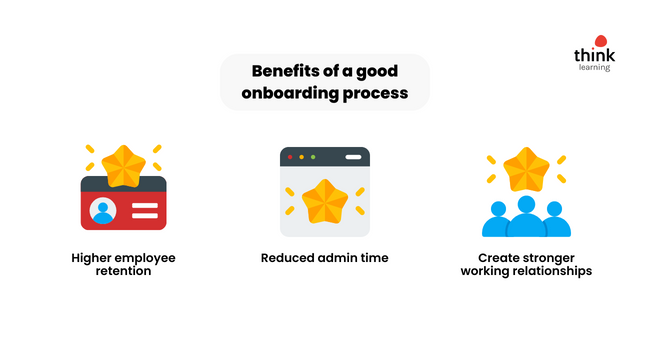 Higher employee retention
Having a poor onboarding experience could be why 25% of new hires quit within their first three months.
Ensuring a good onboarding plan can boost your retention of new hires by 82%.
If you want to keep your people for longer, then it's worth investing in a good onboarding experience.
Reduced admin time
2 in 5 HR managers spend at least 3 hours collecting onboarding information manually.
That's a lot of time spent doing admin, especially if you work in a large business or one that is frequently hiring.
Having a clear admin process through onboarding can massively reduce this busywork.
Create stronger working relationships
Any good onboarding experience will accommodate for relationship building. In order for your new hire to do their job well, they will need to know who does what in your company.
This will give them access to the right people when they get stuck.
What is the onboarding process?
The onboarding process spans all the way from hiring to completing their onboarding.
At this point, they should be comfortable in their role, and working independently.
We asked experts to see how many tasks they usually include as part of their onboarding process.
Related: Tips on creating a good onboarding process
Answers ranged from 10 to over 40. But we found the average number of tasks in an onboarding process is 18.
And the average duration for an onboarding process is 3 months, though the majority of these tasks are usually completed within the first two weeks.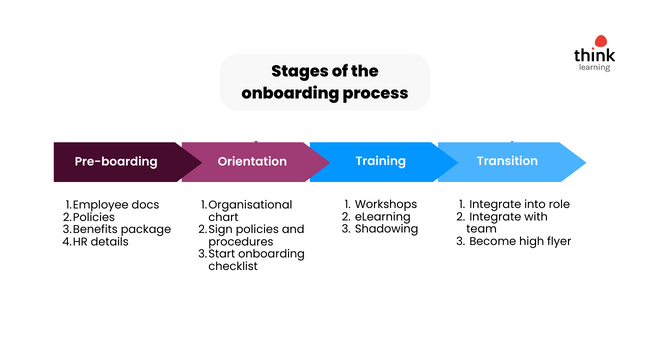 So, what should your onboarding process look like?
We usually break down employee onboarding into four distinct phases:
Pre-boarding
Once someone has accepted a job offer, they will then go through the pre-boarding process.
This will cover things like:
Employee handbook
Policies
Benefits package
HR details like bank account information etc.
This is an important stage as it allows the employee to see how efficient and reliable you are prior to starting.
Ensuring quick and easy pre-boarding is a good way to kickstart onboarding as it ensures you're prepped before their first day. It also helps paint a picture of your company culture.
Onboarding and orientation
Phase two is onboarding and orientation.
Your orientation should be the first day for your new employee. This is the opportunity to show them things like:
Share your organisational chart
Sign policies and procedures
Start onboarding checklist
Once the orientation is complete, you can start actual onboarding.
This is where you'll support them to transition into their new role, ideally with lots of support from co-workers in and out of their own team.
The main goal is to get new hires familiar with your culture, plans and policies and to allow them to plan their own contributions.
Training
The training phase is arguable the most important step in the onboarding process.
Don't expect new hires to know what they're doing. Give them time and support to learn or adjust. Even the most senior hires will need time to get used to new systems, new teams and new objectives.
Implement a strong training outline to help employees learn a lot, quickly.
You can do this through workshops, eLearning and shadowing.
⚡️ Pro Tip

Looking to integrate your training into one central hub? An LMS could be the answer. Learn more about how a learning management system can support you to deliver better training.
Remember, new employees have a 25% productivity rate in the first month, 50% in the second and 75% in the third.
So, give your people time.
You might also want to consider offering mentoring opportunities to your people. This is a proved way of increasing skill sharing.
Related: 5 steps to building a workplace mentoring programme
Transition
Once training is complete, it will take time for an employee to fully integrate into their role and their team.
In the fourth phase of onboarding, a new hire will slowly transition from an new hire to a high flyer.
This transition period is extremely important and it's vital you give the time needed to completely acclimatise to the new role.
Related: How to create a good onboarding experience
Onboarding best practices
Onboarding can be a stressful process for all involved.
In order to make it easier, especially if you have a small HR team or are hiring a lot of new team members, we share our onboarding best practices:
Remove the paperwork
Create an onboarding checklist
Organise an orientation day
Schedule team meets
Prioritise culture
Invest in onboarding software
Take on feedback
Let's look at each of these in a little more detail.
Remove the paperwork
From the word go, there's a lot of personal data and paperwork to be done when it comes to onboarding a new team member.
The whole process of submitting the relevant information to sorting payment etc. can be a pretty overwhelming experience for the new hire.
It can also be a lot of work for your team.
A better experience would be to automate these processes and give both your new team members and your HR teams a little less manual admin to do.
📈 Pro Tip

Automate the onboarding documentation process using ThinkFlow, our flow and form builder. You can digitise processes that previously take time and are difficult to keep track of.

Learn more about ThinkFlow
Create an onboarding checklist
Creating a checklist is an easy way for you and your employee to keep track of where they're up to in the onboarding process.
Simplify the tasks into one checklist that they can make their way through in their own time.
Creating your checklist and sharing it ahead of time will also give your new team member chance to gather the relevant documents.
Related: An easy onboarding checklist for new hires
Organise an orientation day
The first day is an important one. Make sure your employee has a good orientation to their team, the wider team and the overall objectives from day dot.
This should be a slow day where they can take time to acclimatise to their new surroundings.
💡 Pro Tip

If you use an onboarding tool like Think, you can automate your induction and orientation sessions so they invite all the right people.

Learn more about onboarding
Schedule team meets
The first challenge for any new hire is working out who is who and who does what.
Getting a good sense of the teams within your business and how they work together is essential to getting off to a good start.
As such, make sure you intro your new hire to all the relevant teams.
Your onboarding tool can do this for you as an automatic process.
Prioritise culture
When you first start somewhere new, you care most about culture. You want to be sure you made the right decision joining a new company.
So, it's important to take time to highlight your company culture and what you care about.
Make sure to highlight the link between your perks and benefits and your new hire. What do they stand to gain by doing a good job?
This will help motivate them from the get-go.
Invest in onboarding software
Onboarding software is a common HR tool nowadays. And for good reason. It can help you automate repetitive administrative tasks and make more time for relationship building and support.
Think Learning has a range of tools to suit your onboarding needs. From auto-account creation, to checklists and onboarding dashboards, you can streamline your induction processes.
Take on feedback
Feedback is the best way to improve your onboarding process. And what better people to feedback than your new hires?
Make sure you regularly check in with your team to see how they're getting on, where they've struggled and what they think can be improved.
Use this feedback to tweak your processes ahead.
⚡️ Pro Tip

Looking to better loop conversations between teams? Check out ThinkLoop, our 360 feedback tool that can support you get more meaningful feedback on a regular basis.

Learn more about ThinkLoop
Streamline your onboarding process with Think Learning
Think Learning is a state-of-the-art learning and talent platform powered by Totara.
We pride ourselves on having the best experts in learning, onboarding, and more. They're all on hand to help you create bespoke solutions to personal challenges.
Book a demo to see how Think can support you with your onboarding processes.