Get actionable tips on how to create a leadership development plan from scratch or update an existing one to better develop top talent.
A leadership development plan can be a useful tool to make sure you're constantly filling the pipeline of future leaders.
Having this process in place means you're working to improve employee retention, and means you can identify and develop top talent in your organisation.
Identifying and then nurturing your people is key to ensuring you have a good supply of future leaders who can continue to grow your business.
In this blog, we'll go through:
What is leadership development?
Why is leadership development important?
What should a leadership development plan include?
Leadership development goals
5 steps to create a leadership development plan
Let's get started.
What is leadership development?
Leadership development is the process of improving the leadership skills and competencies of your people.
As part of your leadership development process, you should be looking at how you teach your staff the skills needed to lead, inspire and achieve.
This learning could be:
Internal training
Online training
Mentoring
Graduate programmes and more
Leadership development is vital if you want to cultivate a culture of leadership and better prepare for succession.
Your leadership development plan should lay out the steps you'll take alongside what you expect of participating staff members and what you both stand to gain.
Why is leadership development important?
In the changing face of the world of work, businesses need to be more competitive in how they treat, and develop, their teams.
Retention is increasingly important to businesses, but now more than ever, individuals are looking for companies that can offer them more than just a salary.
There are 8 reasons why leadership development is so important:
Drive better results
Create more agile leaders
Retain talent
Drive innovation
Improve employee engagement
Develop customer relationships
Improve communication
Attract new talent
Let's go through each of these in a bit more detail.
Drive better results
Good leaders create better results. It really is that simple. Your managers inspire and lead their teams to hit (and exceed) business targets and your employees are motivated and invested in company success.
Create more agile leaders
Talented leaders are often more agile leaders. That means they can better navigate the peaks of troughs of business and guide the rest of the company through rough seas by pivoting or persevering.
Retain talent
There are two facets to this one.
Firstly, developing internal talent instead of hiring externally will create a culture where employees feel important, valued, and invested in. From that, you can expect a higher retention rate straight off the bat.
But secondly, good leaders help retain employees too. If your people are enjoying their jobs, feel challenged and supported then they're more likely to stay for longer.
Drive innovation and strategy
Smarter leaders who are good at their jobs stand to have more impact, not just in the day-to-day humdrum, but also in future planning.
Engaged employees who are regularly speaking to their teams and their customers are highly likely to be more innovative and have a good sense of where to take the business strategy.
Improve employee engagement
85% of employees are not engaged at work. That's an alarming statistic, but good leadership can help.
Good leaders can more effectively engage employees by creating strong relationships, showing recognition, and engaging teams on their mission.
Develop customer relationships
This one all comes back down to teams. Good leaders know what matters and can more effectively engage and drive their teams.
Good teams are better at their jobs and will understand the importance of having strong relationships with their customers. It really is a snowball effect.
Improve communication
Good comms is a necessity, especially in a large or growing company.
When communication is a priority, you're likely to see more productivity, more efficiency in work, and a more positive working mindset.
Attract new talent
When you have good leaders, good teams, and good results, that all comes together to create a positive culture and positions you as a desirable workplace.
With that, you can more readily attract new talent, whether that's applicants or headhunting because it's clear that you have more to offer beyond just a paycheck.
Leadership development plans can help you achieve all of the above. It keeps employees engaged and less likely to move on to a new job opportunity.
What's more, the stronger your leaders, the greater your organisation's potential as you'll become more versatile, be able to trim the fat where needed, and remain viable in a highly competitive and volatile marketplace.
5 steps to create a leadership development plan
Now we know why a leadership development plan is so important, let's look into the steps you need to take to build a plan for yourself.
There are 5 key steps to creating a leadership development plan:
Assess your current talent
Get buy-in from stakeholders
Determine your competencies
Design your plan
Review your process
Let's look at each of these in a bit more detail.
Assess your current talent
Some organisations will have an existing talent pool while others won't have anything formal in place.
Regardless of which you have, it's important to critically assess your people and determine which types of talent you want to enroll in your leadership development plan.
To do this, you need to assess your people looking at both their potential and their performance. You should choose people for leadership based on them having high performance and high potential.
In our example below, you would probably look at selecting:
Stars
High potentials
High performers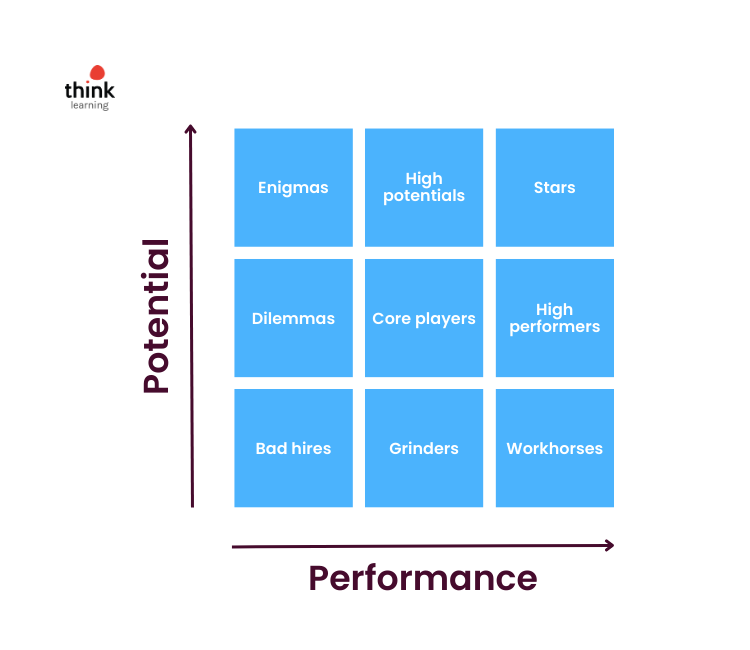 Make sure you also critically assess your current leaders. It's a good exercise to see where they're at too, so you can see if succession will improve your stock of leaders or not.
✏️ Note

Include employees who have shown interest in growing and management. While they currently might not be hitting the right potential or performance levels, that can develop over time with the right investment.
Get buy-in from stakeholders
Sadly, creating a leadership development plan requires a lot of buy-in. You need backing from the employees you're enrolling, their managers, and the company or senior leaders.
Employee buy-in:
You might pinpoint some employees who would be good to participate. But they might not be interested, or it might not be a good time for them.
To even begin, you need to be sure that your participants want to be in a leadership position. Some employees might have all the qualities, but just not be interested.
Manager buy-in:
Your chosen employee might have to siphon off time from their working day to dedicate to training, mentoring, or other additional learning.
You need to ensure that your managers are happy for this to happen as otherwise there will be conflicts within your business and your employees will be burdened with more work to do and not feel invested in at all.
Company buy-in:
Chances are you already have buy-in from senior leaders if you're hoping to create a leadership development plan.
First things first is getting a budget signed off as you might need to request funding for learning courses or an LMS.
💡 Pro Tip

We're experts on leadership development because we help customers find, develop and retain top talent.

Learn more about our LMS
But you'll need more from your senior leaders. They will need to:
Check they're happy that the plan aligns with business objectives
Approve your recommended list of leaders
Apply goals and deadlines
Determine your leadership competencies
Competencies are a core component of understanding leadership, and even just engaged employees.
Tracking competencies in your performance management tool should be an essential part of regular appraisals and one-to-ones.
But beyond that, you should then map skills and competencies to leadership too.
Doing this exercise will create a solid foundation for your leadership development plan and help you prioritise your learning and training opportunities.
Design your leadership development plan and process
Learning isn't just about your LMS and learning content. There are lots of different tactics you can try to better train and develop your people.
Related: What exactly is an LMS?
Generally speaking, you should look at incorporating some of the below into your learning solution:
1. Self-paced micro-learning: Bitesized learning modules hosted in your LMS that learners can engage with in their own time.
🚀 Pro Tip

Learn more about how our LMS works and how we helped one of our customers categorise their courses by duration so even the most time-strapped learner could engage with relevant content.
2. Job shadowing: This is a great way to get real-life experience working with a leader. It also presents opportunities to meet stakeholders and build relationships with them which is great for succession planning.
3. Workplace mentoring: Here, you can pair potential leaders with current leaders who have strengths they can learn from.
💡 Pro Tip

Learn about ThinkLink, our mentor matching tool that allows you to better implement mentoring programmes and report on their success.
With mentoring relationships, you stand to create meaningful relationships across teams and give employees practical experience in a role.
Related: 5 steps to creating a mentoring programme
4. Job rotation: Here an employee gets real-life experience within a given role for a period of 3 to 6 months.
This is a great way of giving practical experience to your people but it can be a costly time investment.
5. Professional development course: These are usually offsite, external training opportunities centred around a specific skill or competency that are completed in a number of hours or days.
6. Professional certificates: As part of leadership development, you might require employees to enroll in a particular certification that is done either full-time or part-time while still being employed.
Of course, these are just some examples of learning options to try when developing a leadership development plan.
Assess and review your process
Once your leadership development plan is created, you'll need to consistently review it.
Feedback is your friend at this point.
⚡️Pro Tip

We offer ThinkLoop, a 360-feedback tool that connects to your LMS. Learn more about how it works or book a demo with our team to see it in action.
Utilise feedback to see how you're hitting goals and objectives. If you're not, you can easily tweak your plan and keep agile with your learning solution.
Start investing in your future leaders
HR and L&D professionals are always putting the needs of their people first. Investing in a good quality leadership development plan is a great way to continue to support your people and can go a long way to help you hit your goals.
Invest in your future leaders by creating solid leadership development plans that work for your people. Prioritise the skills that really matter and continuously review progress.
Here at Think, we provide ourselves on our knowledge of learning and development. We prioritise creating solutions that solve problems and help you put your people first.
Book a demo to see how our learning and talent solutions can help you better engage employees, invest in their development and create long-lasting impact.