Adopting a learning management system can help you standardise your training opportunities, provide clear structure to your teams and help you retain top talent.
Learning and development should be a key factor when considering a new position. A company that invests in one, is a company that's investing in you, their employee.
From compliance training, to mentoring and simplified reporting on admin processes like appraisals, an LMS can provide you with a range of features to maximise your company.
In this blog, we'll walk you through:
What an LMS is
What to consider when comparing different learning platforms
The top 9 LMS (in our humble opinion)
Let's get started.
🚀Pro Tip

Think Learning is a leading LMS in its field. We support clients with a whole range of features and tools that can help you take your learning function from zero to hero.

Learn more about our product
What is an LMS?
An LMS, or a learning management system, is a piece of software that allows companies to better track, report, document and deliver training, materials and developmental programs.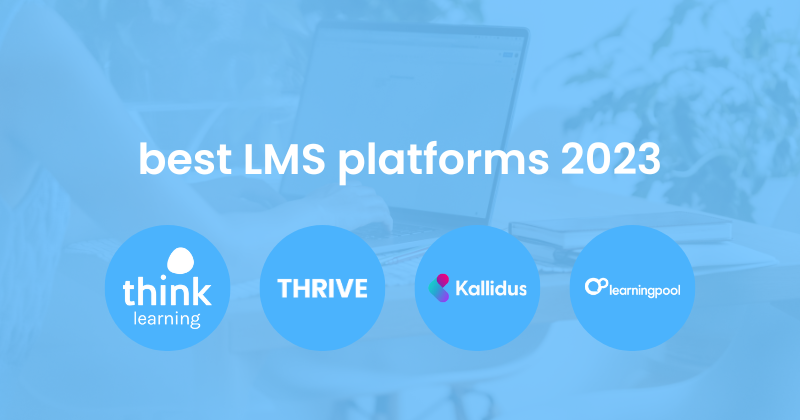 Each LMS supplier and partner offers something different, so it's important to understand what your goals are before you start looking.
From performance management and talent retention to out-of-the-box learning solutions, there's an LMS out there that can help you achieve your goals.
Related: What exactly is an LMS (and what are the benefits?)
What to consider when choosing an LMS
There are several factors you need to consider when selecting your LMS.
Remember, out-of-the-box solutions are great, especially if you're on a tighter budget, but they likely won't offer as much capability as other custom tools.
Top considerations when choosing your LMS can be rounded down to:
User experience
Open source or proprietary software
Configuration and personalization
Support
Features
Roadmap
Let's discuss these in a bit more detail.
User experience
If your learners aren't using your LMS, well, you have a big problem.
You need to be able to put in the time, either in-house or via your provider, to fully consider the learner experience and look at ways to improve the learning experience.
Related: 6 key considerations for a better learning experience
Good user experience on your LMS can lead to:
Increased employee engagement
Improved learner retention
Less time wasted on training users to simply use the LMS
More positive experience using your LMS
With any LMS you consider, make sure to check out what the end product will actually look like and how easy it is to navigate and use.
You need to ensure even your least tech-savvy users can find their way around.
Open-source or proprietary software
Open-source learning management systems tend to be kinder to your budget, and they offer some powerful freedoms for buyers, including less vendor lock-in, and more scope for personalization and custom functionality than proprietary systems.
Totara is underpinned by open-source software. It works with a bunch of partners that use its basecode for their clients.
At Think Learning, we've taken the three core features of Totara; Learn, Engage and Perform and we've supercharged them.
We've added our own flavour, meaning users get more innovation and customization while still having that expert know-how at the end of an email or phone call.
Configuration and personalization
Many LMS offer basic personalization aka a logo in the top left-hand corner. It doesn't scream good user experience, does it?
When you're assessing your options for a new learning platform, make sure you consider how easy it is to configure and personalize the front-end.
It might not seem that important but ensuring it's cohesive with your brand offers learners a better experience.
Support
When you're using a new piece of software, there's always a certain amount of time needed to onboard. The more complicated the software, the more time it'll take to get acquainted.
The more features you have, the more time that'll take. So, make sure you're getting access to an onboarding or support team member from your chosen LMS.
For larger learning platforms, this service will be costed into your billing meaning you have support every step of the way.
If you don't have this support, you might find it difficult to get over the learning curve of your new tool.
✏️ Note

At Think, we're responsive, solutions-focused and collaborative. They're etched into our very being. That means we put a lot of time and effort into providing deeper support to our customers.

We care about our track record for lightning-fast migrations and long-lasting customer relationships.
Features
You might just be looking for a basic learning platform right now. But what's important to consider is that you can bolt-on a lot of extra features and services as part of your LMS.
From performance and talent management tools to engagement and feedback tools, there are a whole host of extra plugins available with more advanced learning management systems.
Make sure you check out what extras you can access and compare this to your wishlist.
⚙️Note

Here at Think, we love taking new ideas and making them a reality. One of our recent plugins, ThinkLink, was actually an idea a client had that we loved so much, we made it a reality!
Roadmap
A lot of the learning management systems you're about to read about are out-of-the-box solutions. But many offer a whole raft of features and as such, have roadmaps of new products and product developments.
And remember, lots of LMS suppliers charge for platform upgrades. We believe they should be part and parcel of your ongoing maintenance package, so we don't charge any extra to make sure you're on the best version of our platform.
Knowing your LMS roadmap might not be vital, but it's worth asking about so you can see what new products and upgrades you could stand to get access to in the future.
9 best learning management systems for 2023
Knowing where to start when buying a new LMS can be tricky. So, we've done the hard work for you.
Here's our list of 9 great LMSs to check out:
Think Learning
Thrive
Kallidus
Learning Pool
Oracle
Synergy
Cortexa
Hubken
Accipio
Now you know which ones we rate, let's go into a bit of detail on each.
Think Learning
Think Learning is a platinum partner of learning giant, Totara. Think has taken Totara's basecode and boosted it with a whole suite of new tools to make any L&D professional smile.
Plus, you can totally personalise your learner experience!
Some standout features include:
Mentoring product, Think Link, where your people can find experts to learn from
Workflows to take processes like apprenticeships, course applications and probation reviews online, and
A big talent suite with everything from 360 feedback, 9-box grids and succession.
If you're looking for a tool that can help you standardize your training materials, document learner uptake and report back on employee progression, then Think is a strong contender.
Thrive
Thrive offers a learning experience platform plus a content library where you can pay for learning content if you don't have any of your own.
Thrive offers theming personalisation, and focuses on content, social learning and collaboration. Their Learning & Skills Platform is a good one to check out.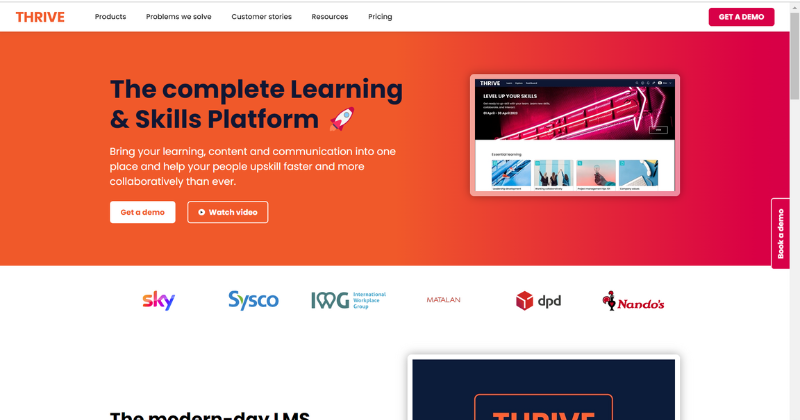 Kallidus
Kallidus is a learning platform that offers off the shelf courses and tools around performance management and onboarding.
It's worth noting that there isn't a huge amount of personalisation available with Kallidus, meaning what you see is what you get. It does offer a simple and straightforward dashboard despite its catalogue of products, making it easy to navigate.
Learning Pool
Learning Pool are a big name in the LMS space and for good reason.
Frequently commended for their fantastic support, the team are on hand to help you every step of the way when it comes to creating and editing your LMS.
Some users do report struggles of making small changes to courses and functionality which does require support assistance, but this is accommodated as part of your package.
While they do offer a wide range of tools and products, there is sometimes limitation in customizing it to your own needs and requirements.
Learn more about Learning Pool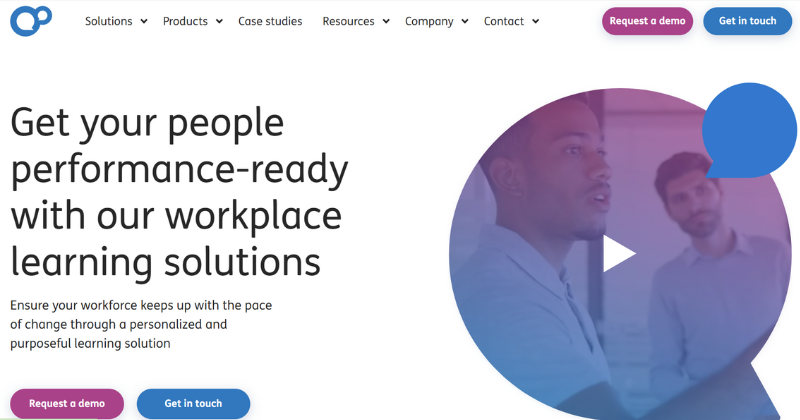 Oracle
Oracle powers the ESR OLM LMS which is specific to the UK NHS. We've included it in our list given the huge need healthcare has for a learning management system.
While this is the national LMS and has a whole host of resources available, the functionality is lacking and a lot of processes are left to paper because they're not repeatable in Oracle.
This is still a valid option when working in the NHS so do investigate further to see how it could fit your needs.
Synergy
Synergy has adopted both Moodle and Totara's knowhow to provide their base LMS.
What you'll get with that is a very straightforward system that can allow you to hit all the basics of learning.
There are some limitations when it comes to features and branding/theming within their core LMS, but it does offer a suite of other tools like personalisation and plugins.
You do have the option for custom development of your LMS, but of course, this will come at a premium. Synergy is worth considering if you're looking for something quite bespoke and have the budget to build and maintain bespoke elements over the lifetime of the LMS.
Cortexa
Another Totara partner, Cortexa, is a great option if you're looking for support with creating content for your LMS.
While it offers the key functions of Totara (meaning you can access their learn, engage and perform tools), it is less focused on complex learning and performance management user journeys. What you can access though is excellent support from start to end when it comes to designing and implementing your learning content.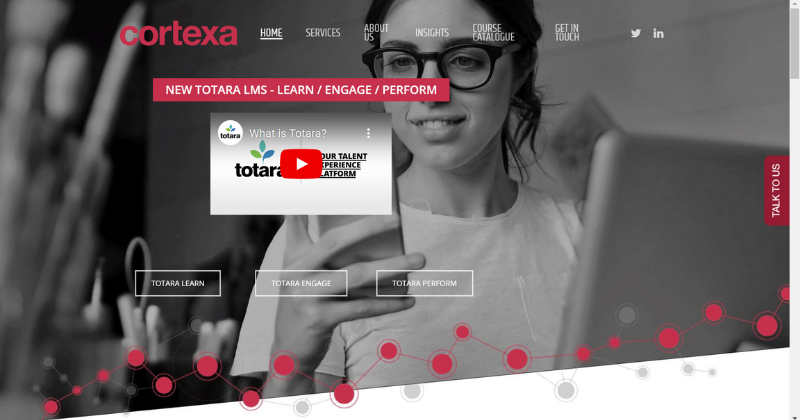 Hubken
Hubken offers both Moodle and Totara Learn software, meaning you get some options in your LMS functionality. With these core functionalities at your disposal, you can get solid, out-of-the-box solutions for your L&D needs.
As mentioned with previous suppliers, that does mean there's little extra functionality capable with Hubken though you can be sure to receive excellent support whether you're looking to upgrade your TXP or move your whole learning platform over.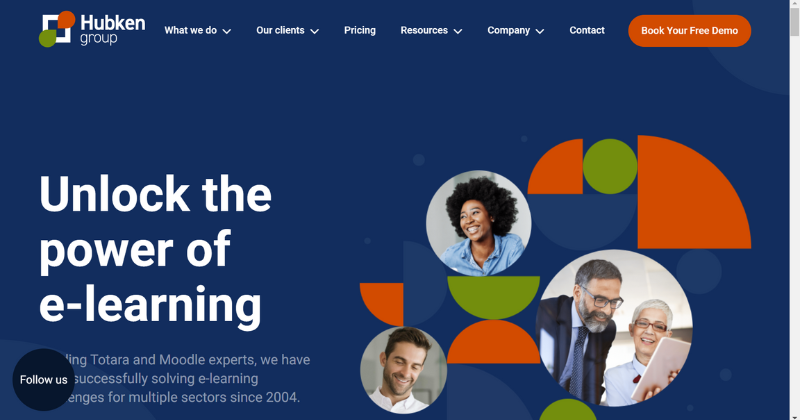 Accipio
Accipio is another Moodle and Totara partner but this software offers a lot more in the way of homemade plugins. That means you can use the core functionalities of Moodle and Totara plus tag on extras like e-learning authoring or eCommerce and paywalls. They excel in membership organisations as you'll see from their case studies.
This gives you more scope to create a more bespoke platform for your company and so is a good option to consider.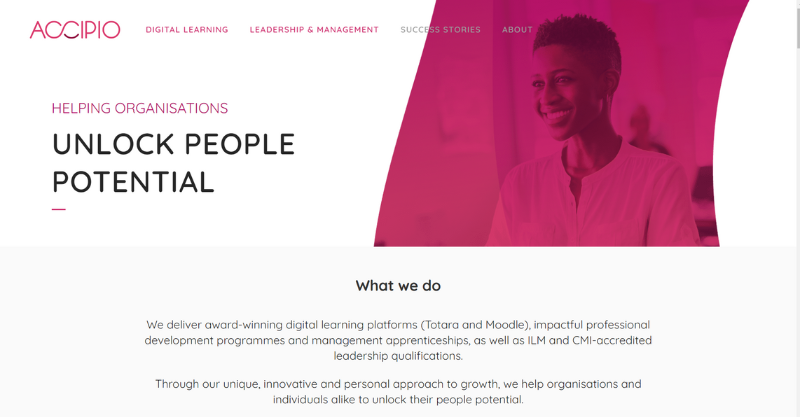 Choose the right LMS for you
Hopefully this blog has gone at least part of the way in helping you decide which LMS to choose to implement.
Remember, your needs should be met within one tool to save having to integrate lots of tools together which can lead to:
A drain on budget
Messy data
Confusing processes
Think Learning isn't an out-of-the-box solution, it's totally custom built and we pride ourselves on great customer service.
We care about your success, just look at what Circle Health Group had to say about us.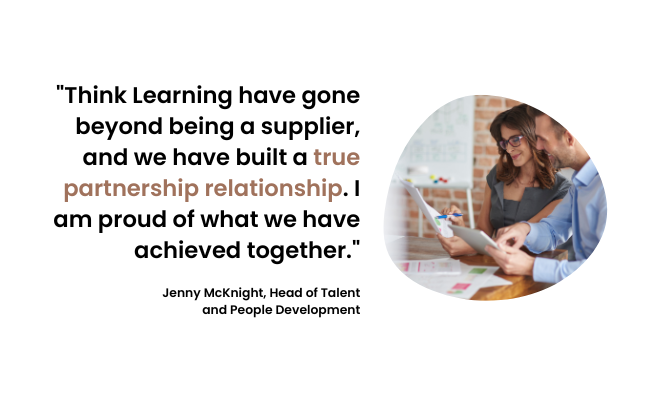 Once you're chosen your preferred LMS, you've completed step one from our LMS implementation checklist!
If you're ready to get started with us, then book a demo with our team. We'll walk you through our platform and what it can help you to achieve.