Using an LMS, or investigating investing in one, and want to know the best features? Keep reading to learn our top suggestions.
A learning management system, with all the right tools and add-ons, can streamline a whole raft of issues L&D professionals face.
From poor learner engagement to messy paperwork for appraisals, training applications and more.
Luckily, an LMS can help.
But which features of a learning management system do you need? And which are just a nice to have?
We walk you through:
Firstly, what an LMS is
And the 10 best learning management system features
Let's get started.
🚀 Pro Tip

While the features we reference below are the best (in our opinion), they're not standard features. But, we do offer every single one of them…

Book a demo to see them in action
What is an LMS?
An LMS, or a learning management system, is a tool used by HR and L&D professionals to better manage training, performance management, compliance and more.
Related: Dive deeper into the world of LMSs
Investing in a learning management system can help you encourage learning and training in your company. But it can also help you hurdle a lot of key challenges faced in the sector.
From messy paperwork to people data being stored left right and centre, and complicated methods for managing training budgets to poor strategy for talent management.
An LMS is a core way to solve a lot of, if not all, of these issues, and more!
10 best learning management system features
Before you begin looking at the best learning management system for you, you first need to nail down what features are essential.
Building your solution should be totally bespoke to your challenges. While out-of-the-box LMSs exist, they don't always solve core issues faced day to day in an L&D team.
Here, we'll run you through our favourite features and why you need them.
So, without further ado. Here, they are, the 10 best learning management system features:
Customised learning
Workflows
Performance
Budget tracker
360 feedback
Mentor matching
Engagement
eCommerce
Reporting
Email and text notification
Let's go through each one in a bit more detail.
1. Customised learning
A core feature of an LMS is a hub for all of your learning and training material. With an LMS, you can create a central learning experience to boost compliance, support employee development and manage the busywork.
With some LMSs, you can personalise this area to ensure your courses and spaces match your branding.
⚡️ Pro Tip

Think Learning offers a lot of branding options when it comes to personalising your space. Learn more about our Learning core function.
From colours to logos, you can format every aspect of your learning module to keep it fresh, and on brand.
This is key to ensuring learners associate the training materials with their company.
2. Workflows
If you can write it down, you can put it online. But without the right tool to help you map the process and collect the data, things like forms can often become a bit of a logistical headache.
You can create workflows like study leave applications, course applications, onboarding and inductions.
Even if you have a more personal requirement, you can make it.
For example, we created PPE fit-testing workflows for our NHS clients so there are endless options when it comes to creating your own bespoke workflow.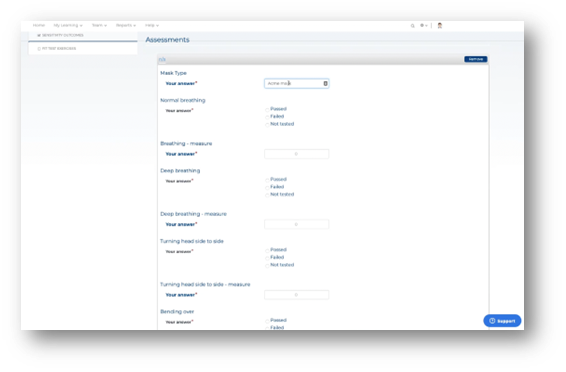 3. Performance
Totara's Perform function is a great addition to any LMS. It allows you to map skills to people and then map competencies to various forms of achievement like courses or manual ratings.
You can create paths for users to set how competencies are achieved.
For example, you could have users automatically set to 'Competent with supervision' once they complete a basic training course.
You could then enable another assignment for them e.g. a course to achieve the 'Competent' rating.
This is a great way to manage where your people are at and who needs support in their development.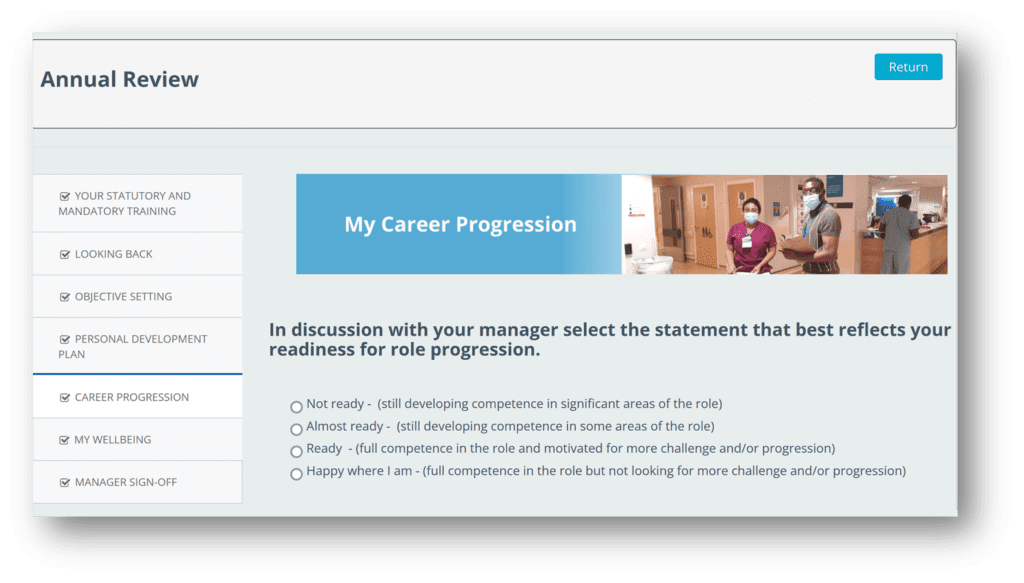 4. Budget tracker
Managing a training budget is easier said than done. There's often big money at play. Plus, you're likely dealing with different streams, training programmes and also have to wrangle compliance as part of that budget too.
Instead of struggling in a spreadsheet, you can manage your budget in your LMS.
You can set up budget streams and decide which audiences can access each stream. Plus, you can decide if the budget is shared or if each employee get their own individual budget allocation.
When budget is spent, you can see this automatically tracked to keep your numbers up to date.
5. 360 feedback
Learning and development isn't linear. Post-training, you need to monitor how employees are taking their new knowledge and applying it to their role.
To help with this, you can access feedback tools like our 360 Feedback tool.
It can help you create a culture of getting and giving feedback to peers, managers and more.
Some of the types of feedback include:
360 insights as part of leadership programmes
Culture and values surveys
Team-level feedback
Service user feedback and more
This can be a really valuable method of gathering data, but without the right tool in place, you can be left swamped with data from Google forms, SurveyMonkey etc.
Integrating it into your LMS allows you to keep one central hub of information.

6. Mentor matching
For many people, the best way to learn is to see it in action. And a great way to do that is by getting a mentor.
Not only can you learn from the person by shadowing them in their role, but you also stand to gain a lot of personal knowledge from them too.
A mentor and mentee relationship can be extremely beneficial.
The stats back it up.
90% of workers who have a mentor report being happy in their job. Happier employees is a HR professional's goal right?
🚀 Pro Tip

Think Learning offer a mentoring matching programme called Think Link.

Mentors can advertise their knowledge and expertise and mentees can bid for mentors they like. It basically works like a dating app but for mentoring! Get in touch to learn more
7. Engagement
Learning doesn't just happen in the classroom. The best way to encourage increased learner engagement and learner retention is to provide a core place for collaboration.
We use Totara Engage to facilitate information and collaborative learning outside of assigned courses.
This all builds on top of your LMS and allows users to curate resources and workspaces to enable better knowledge sharing.
Your subject matter experts will be able to create content hubs for learners to digest in their own time.
8. eCommerce
Are you creating key courses that could be relevant beyond your internal staff? Then, you should consider adding an eCommerce platform to your LMS.
We integrate your LMS to your WordPress site to present a 'shop window' of your courses to purchase.
All you need to do is get people there to buy it!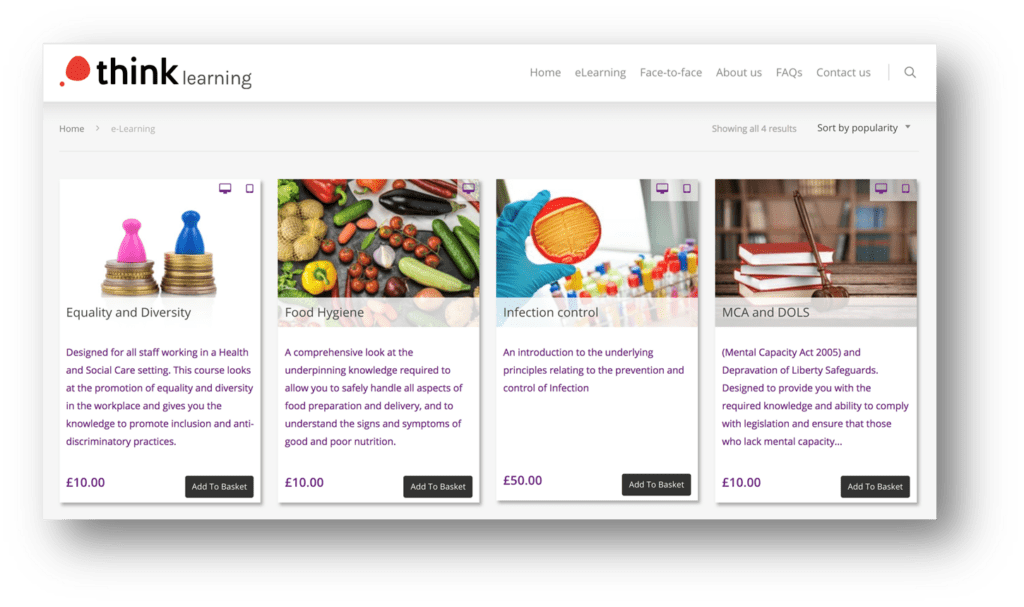 9. Reporting
We know the difficulties that L&D professionals have when it comes to reporting.
You're often asked for stats and metrics at a moment's notice. And when you're dealing with paperwork, you might not have immediate numbers.
Or, if your data isn't living in one central hub, it could take a lot of work to pull simple numbers.
And, even with an LMS, you might have long reporting wait times as it pulls your numbers.
Think offers instant reporting feedback. It means you can get the stats you need with a few clicks of your mouse.
10. Email and text notification
Let's say you're setting up a seminar for employees who all work within a particular department.
They might have that meeting in their calendar, but what about reminders?
Maybe they need to organise travel or they might just have a busy diary that's quickly filled up and so hard to manage.
An email and text notification tool can take all the hard work out of reminding employees about events like this.
With a few clicks, you can send automated reminders to certain groups of your learners leaving you with a lot less wasted time spent on reminder emails.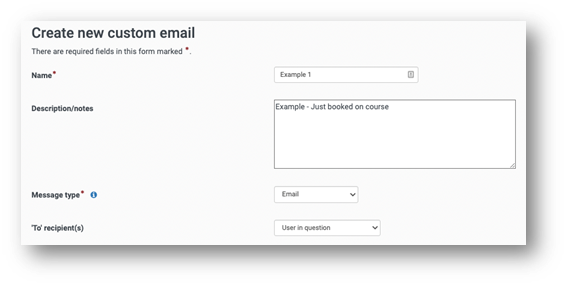 Why you should choose Think
We pride ourselves on creating new features and plugins that help our customers solve real-life problems.
Our innovative development and implementation team work to support users get more out of their platform.
So, if you're struggling with any of the problems mentioned above, or if you have a more bespoke issue, you'd like help with, let us know.
Book a demo with our team to see the platform and plugins in action.