Discover the benefits of onboarding and how proper processes and software can help you create a more effective onboarding experience.
More than 76% of HR professionals feel their company underutilises onboarding.
And it's no surprise. The UK economy loses £340 billion ($408 billion) because of disengaged employees every year.
Employees who have friends at work are seven times more likely to be engaged, proving just how much relationships matter, and why the emphasis on integration during onboarding.
The connection between employee engagement and a good onboarding process is clear.
But what else do you stand to gain by implementing a solid onboarding experience?
In this blog we'll run through:
What onboarding is
Why onboarding is important for a company and its employees
What the benefits of onboarding are
What comes after onboarding
And the benefits of onboarding software
Let's get started.
Related: 20+ surprising onboarding statistics
What is onboarding and why is it important?
Onboarding is when a business provides training, information, resources and more to new employees to help them establish themselves in their new role.
It's the process of welcoming and integrating employees into the workplace.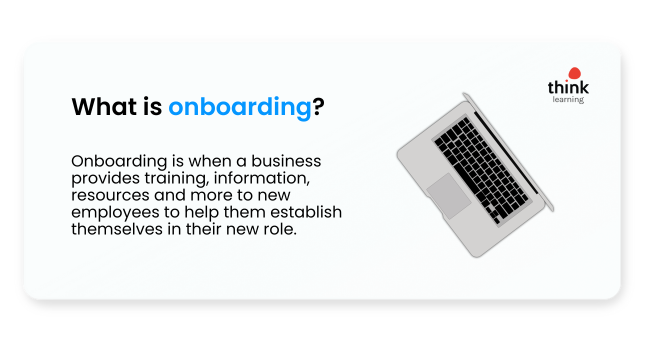 By this very definition, it's clear that this process lasts beyond the first few days in a role.
🚀 Pro Tip

Want a complete guide to onboarding? Read our full breakdown to see how you can more effectively incorporate it into your learning and development strategy.
Onboarding is helpful to a new employee as it can help them acclimatise to their role, understand their role and get a feel of the company's culture.
But it's not just the new employee that stands to benefit.
The team orchestrating onboarding will benefit too.
If your onboarding process is slick, you can say hello to significantly less time spent organising documents, chasing tasks and managing reporting.
Why is onboarding important for a company?
Onboarding is an instrumental step in an employee lifecycle.
It's the first time a new employee will engage with you and your company, so it's important that you make a good impression.
But as we know, investing time and money into processes or projects can be tricky to get sign of on.
So, you need to know what you stand to gain.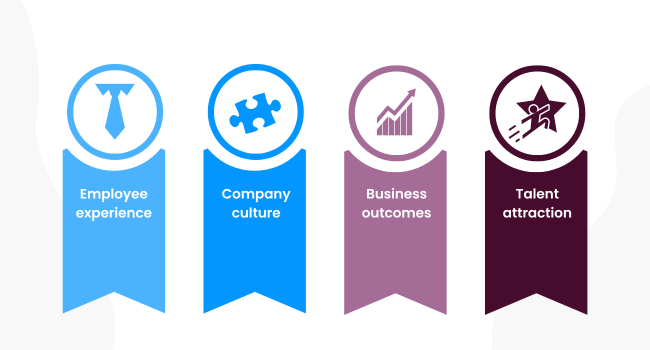 That's where we come in.
Here are 7 benefits of onboarding:
Better employee experience
Higher employee engagement
Better employee retention
Stronger company culture
Increased productivity
Better business outcomes
Easier talent attraction
⚡️ Pro Tip

Want a platform that solves all of your onboarding challenges in one fell swoop? Think Learning is a leading learning platform that supports its customers with onboarding, streamlining the process for the HR team and for the new employee.

Learn more about onboarding with Think
Better employee experience
When we're hiring someone new, we want them to have a good experience.
We don't want them to feel unsupported, alone, or uncomfortable in their new role.
Happy employees enjoy their job more, and generally, work better too.
So, creating a strong user-focussed onboarding experience is key in generating happy employees and taking them from a new hire to highflyer.
Higher employee engagement
Engagement is a core benefit of onboarding.
Before your new employee even starts their first day, they're likely checking you out on socials and via your website.
They'll also be judging how you engage with them, whether that's your efficiency sending over their contract, or how you sort their first day in work.
Making your employees comfortable before they even start work is a great way to assimilate them into their team.
By doing this, you stand to gain a much more loyal and engaged employee.
What's the benefit of that?
Well, you can feel an engaged employee through all aspects of work.
Whether it's engaging with other new starters, supporting the company via social advocacy, helping other teams with work or just generally being a champion within the workplace.
The benefits of an engaged employee are tenfold as they usually help bump up other team members too.
What you're left with is an enthusiastic and loyal workforce.
Better employee retention
The battle for top talent retention is usually pretty high.
We know that 69% of employees are more likely to stay with a company for three years if they experienced great onboarding. Plus, the cost to retain an employee compared to hiring new, is exponential.
Therefore, the benefit of creating a good onboarding plan is pretty clear.
Having a good onboarding experience will obviously affect:
Employee satisfaction
Preparedness for their role
Their outputs
All of these have a knock-on effect one on another meaning that you can stand to see long-term impact.
Stronger company culture
Recruiting new employees is time-consuming and expensive. Especially if you're forever chasing a revolving door of employees joining and leaving.
This can have a huge impact on your company culture.
By having a core group of long-standing employees, you can solidify your company culture.
And by maintaining this culture, you can continue to deliver a fantastic experience to your new hires.
Increased productivity
A good onboarding process can help shorten the learning curve for new employees. That's a measurement of the relationship between proficiency in a task versus the amount of experience they have.
70% of employees who liked and excelled at their job had a streamlined onboarding experience.
With good onboarding comes a reduction in the time it takes to learn new tasks, or get efficient at tasks they can already do within new systems or tools.
The trick to achieving this is by prepping well.
Provide all the key information at the right time.
Whether that's getting access to key tools straight away and setting up training for that tool and its current processes, or if its sharing flowcharts on how current processes work.
Whatever method you use in your onboarding process, you can stand to see better quality work, at a quicker rate.
Better business outcomes
Let's break this one down.
You have employees that are staying for longer, who are more engaged, and who are better at their jobs.
What that tells us is that you have a stronger workforce capable of achieving more with less.
And the impact of this could be anything from:
Better processes
Better tools
Increased ROI
Less wasted spend
Better working environment
When you hire experts, you're going to continually be improving your workforce, and as such, improving your impact. Whether that's as a place to work, or as a business.
Easier talent attraction
Attracting talent isn't an obvious benefit of good onboarding, so it might not be the primary purpose of changing your process.
However, considering all of the above benefits plus your skyrocketing employee satisfaction, it's easy to put the puzzle pieces together.
You should be considering wellbeing and job satisfaction as part of your onboarding process.
That could be things like, assessing their workspace and offering better equipment or giving them an allowance for remote working.
Quickly, onboarding processes sound more like perks and benefits.
What are the benefits of onboarding past orientation?
As you might be able to glean from what we've already talked about, onboarding doesn't just stop 3 days into a new role.
Onboarding extends beyond orientation by providing a more comprehensive, ongoing process that focuses on integrating new employees into the company culture, facilitating faster learning, and ensuring a smoother transition.
While orientation is an initial introduction to the company, its policies, and basic information, onboarding includes activities and support that continues over a period of weeks or even months.
During the onboarding process, employees receive continuous guidance and feedback from their managers and peers.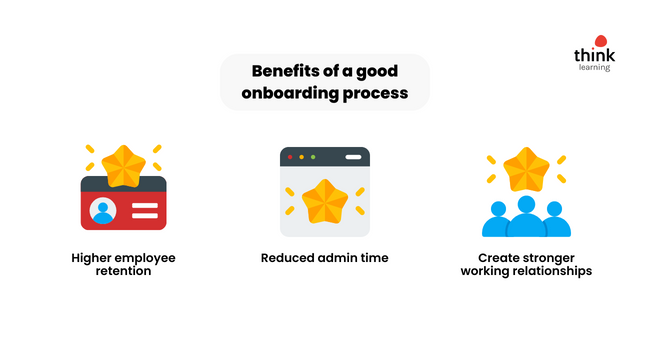 This enables them to understand their roles and responsibilities, accelerates their learning, and helps them become productive contributors to the organisation.
An effective onboarding program also ensures that new hires are familiar with the company's culture and values, which leads to better employee engagement.
Your onboarding process should be designed to help new hires reach their highest potential by incorporating the company's business strategy and setting clear objectives for their personal and professional growth.
What comes after onboarding?
After the onboarding stage in the employee lifecycle, several other phases follow that contribute to an employee's overall experience and growth within the organisation.
The development phase
This is the next step after onboarding.
This is where employees begin to understand their jobs more deeply, undergo performance assessments, and take part in professional development and training programs.
The retention stage
This is where strategies are employed by the organisation to keep effective and efficient employees in the company.
In this stage, employee recognition, rewards, benefits, and building a strong company culture are important.
What are the benefits of onboarding software?
Integrating onboarding software can help you simplify the onboarding process.
Think Learning offers onboarding as part of its core learning management system solution.
It can help you by:
Automatic account creation
Your new hire has accepted your offer – congrats!
But, now what? Well, chances are they won 't start for a month or so. But that doesn 't mean you can 't kickstart the onboarding process.
With Think, you can auto-create accounts for new members using their personal email, and switch over once they have access to their work email address.
Create an onboarding checklist in your LMS
New starters are inundated with tasks, even before they start.
Build an onboarding checklist to help ease the paperwork. Simplify what they need to do and by when, with easy-to-use functionality that allows them to tick actions off as they complete them.
Build new hires a specific dashboard
When your new starter logs into your LMS, chances are you don't want them seeing the same content as the rest of your employees.
With Think, you can build a fully bespoke dashboard to serve just to your new hires.
That can include their onboarding checklist as well as any important documents, or links to key learning they need to complete.
Start onboarding with Think
Hopefully this blog has gone part way to help you prove the impact of good onboarding.
Remember, creating a solid onboarding process is best done with a platform that understands your wants and needs.
Think Learning is a premium partner of Totara and prides itself on having the best version of Totara.
Don't believe us? Book a demo to see our platform in action, and see how our team can help you create the ideal learning environment for all of your new starters.